New Canaan's Teri Buhl, convicted of second-degree breach of peace following reinstatement of the charge by the state Supreme Court, said in a post on her website Wednesday that she's hoping to raise "a few hundred dollars" via Paypal so that she doesn't get beat up or raped in jail.
Buhl said that on Friday she will enter the state's female prison, the high-security York Correctional Facility in Niantic, Conn. and needs the money to "pay for phone calls and to buy things for other inmates from the jail store to 'buy protection.' "
"Based on interviews with other women who have been in York prison there will be gangs based on race in jail. I get to somehow try to 'gain favor' with the leader of the white gang to help make sure I don't get beat up or raped."
***
The developer of the new Post Office now taking shape in earnest on Locust Avenue said he's actively taking inquiries from professionals interested in renting the 3,800-square-foot second floor of the Federal-style building. Asked for details on the space, New Canaan's Richard Carratu said it features two separate entrances, a dedicated elevator and 14 parking spaces. Asked whether he has a preference on a tenant, Carratu said he would prefer to have a single company typical of second-floor office professionals in New Canaan. The Post Office itself is on track for a hand-off to the U.S. Postal Service on Aug. 26, at which time the federal agency will set about readying the space for the upcoming holidays. USPS has signed a 10-year lease with an option to renew for another 10. (Asked whether companies interested in the second floor could contact him directly, Carratu said yes, at 203-550-0293.)
***
A motor vehicle appeared to have dislodged one gas pump at the Gulf Station on South Avenue on Tuesday afternoon. Emergency responders just before 4 p.m. were dispatched to the gas station, where they cordoned off the pump in question with police tape.
***
Some very cool news here: Two New Canaan volunteer firefighters, Assistant Chief Russ Kimes and Firefighter Adam Jones, have joined the Watkins Glen International Volunteer Fire/Rescue Team, Racing Services Incorporated. They're broadening and applying skills for fire suppression as well as vehicle extrication in one of the most dynamic environments—a racetrack. The pair will address crash/rescue, pit lane fire and other fire tasks at events including IMSA, NASCAR and IndyCar. The skills they learn and use on the track are designed to enhance the service they also provide the residents of New Canaan. There's more information here at the RSI website and Facebook page, as well as the New Canaan Fire Company #1 site. (See more photos in gallery at end of this post.)
***
Finally, we note here that Fairfield County's VolunteerSquare—a nonprofit organization whose unique online database connects people who are interested in volunteering with agencies that have opportunities—has hired Julianne Alberty as its new executive director. Alberty, who moved up to Norwalk from New York City, comes to the Darien-based nonprofit (which serves New Canaan and other towns in the county) from Lincoln Center, where she had served as manager of community and family programs.
Here's the gallery of our firefighters: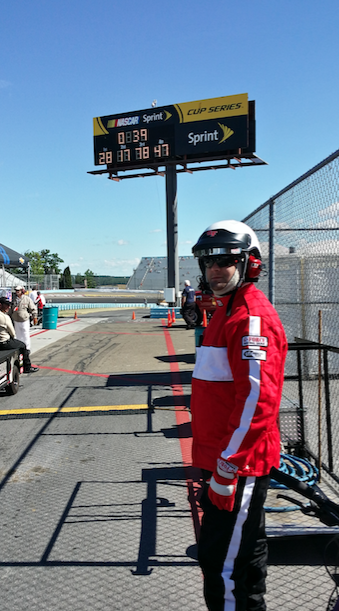 Firefighter Adam Jones in front of the NASCAR scoreboard, on pit road