Addressing Climate Change in the Connecticut State Legislature and in the Executive Branch
June 16 @ 7:00 pm

-

8:00 pm

Free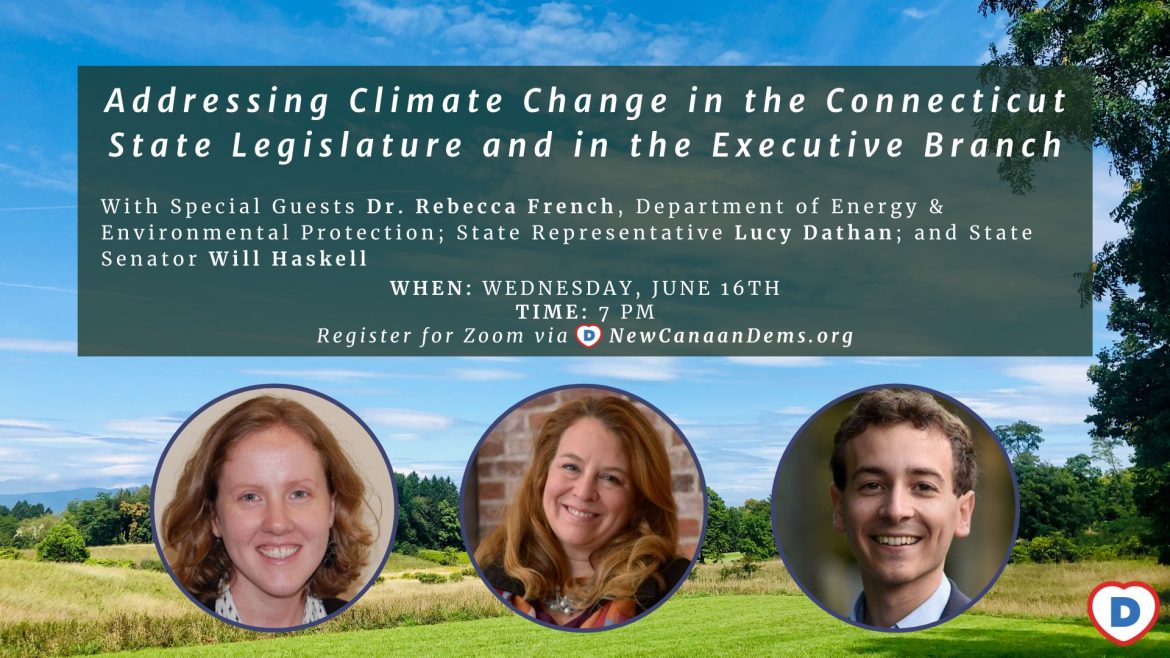 Join us on Wednesday June 16th at 7 pm for "Addressing Climate Change in the Connecticut State Legislature and in the Executive Branch" with Dr. Rebecca French, Department of Energy & Environmental Protection and our legislative representatives, including State Senator Will Haskell, and State Assembly Representative Lucy Dathan.
"The time for continued consequential action to address the climate crisis is now," Governor Ned Lamont has said, "as it has already altered Connecticut's climate with impacts the state will see between now and 2050."
In February the Governor outlined key legislative proposals he introduced for the 2021 regular session of the Connecticut General Assembly to adapt to the very real and unavoidable impacts of climate change, mitigate the sources and impacts of climate change beyond 2050, and prioritize the most vulnerable communities. Many of the proposals implement recommendations of the Governor's Council on Climate Change for near-term climate action, delivered to Governor Lamont in January 2021.
Dr. Rebecca French, Director of DEEP's Climate Change Planning Office will discuss the Governor's proposed bills and whether or not they were approved by the legislature. The focus will be on where these programs will go next. Non-legislative actions related to the Governor's Council on Climate Change will also be discussed.
Register for Zoom here: https://us02web.zoom.us/meeting/register/tZwsdeyvqjgjE9ywf4CCB7gAcniDYWKtrsVU