Candlelight Vigil Marking One Year Since the Murder of George Floyd
Sunday, May, 23, 2021 @ 8:00 pm

-

9:00 pm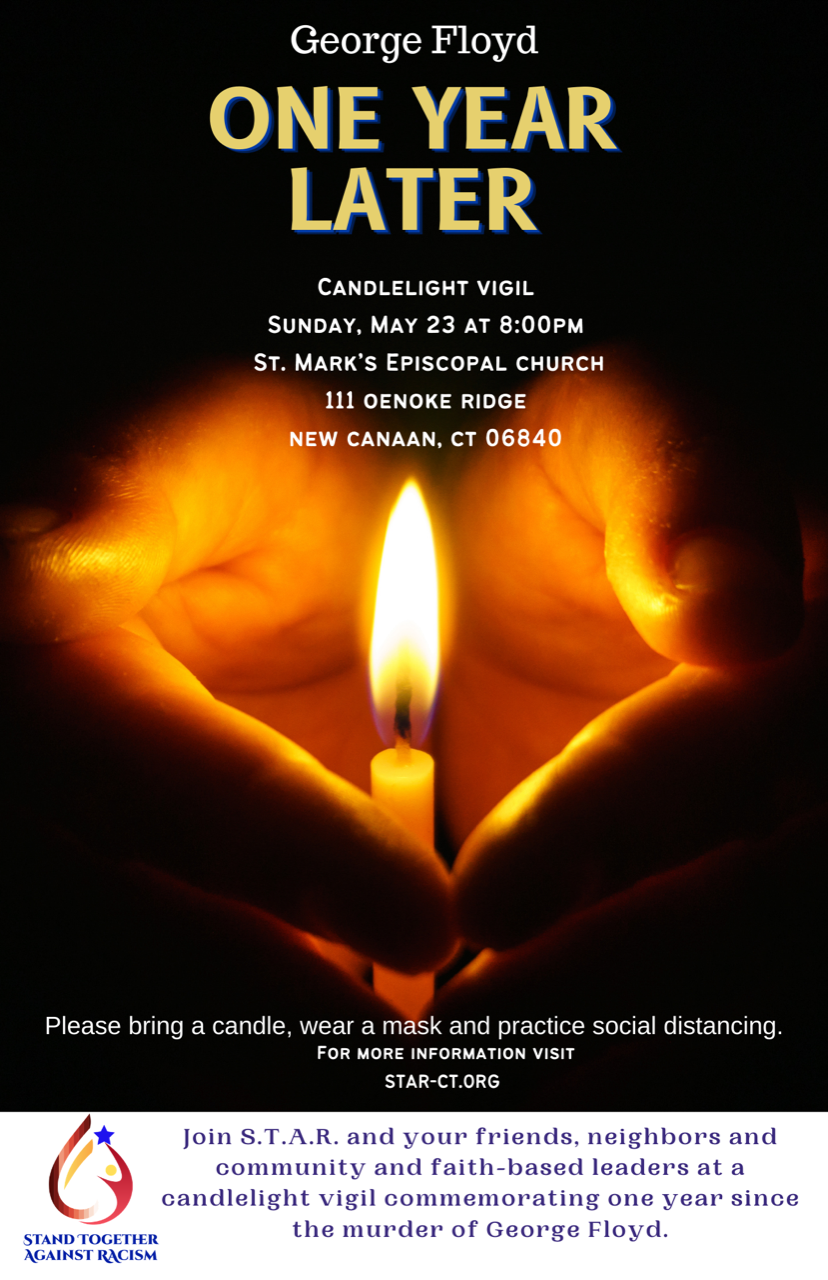 Stand Together Against Racism (S.T.A.R) will be hosting a memorial candlelight vigil on Sunday, May 23rd at 8:00 PM on the great lawn of St. Mark's Episcopal Church in New Canaan to commemorate the one-year anniversary of the murder of George Floyd in Minneapolis.
Sunday night's peaceful vigil is being held in remembrance of Mr. Floyd and the numerous other victims whose untimely and unnecessary deaths were rooted in racially motivated violence, and to reflect on where we stand one year after George Floyd's murder—an event that galvanized communities across the country to acknowledge and confront systemic racism.
"May 25 marks the one-year anniversary of the murder of George Floyd, a tragedy that has changed the course of history, says Nancy Geary, Executive Director of the New Canaan Historical Society and S.T.A.R. Board of Directors member. "We gather to honor Mr. Floyd, to appreciate the broadened conversation and collective action that is happening in this country as a result of his death, and to acknowledge the enormous amount of work to be done to achieve equity and equality for all. We hope the community shows its support." 
A year ago, as the New Canaan community stood for justice and equity with a peaceful protest in support of Black Lives, we hoped that Mr. Floyd's would be the last senseless killing at the hands of police. Since that time, however, an additional 181 Black individuals have died in police killings, according to Mapping Police Violence.
"As I reflect on the national reckoning that has and continues to take place in the wake of George Floyd's murder, it feels like the world in many respects has stood still," says Myrlove Stansfield, Diversity & Inclusion Associate at Bridgewater Associates and S.T.A.R. Board of Directors member. "We still have so much more work to do to increase equity and ensure justice for everyone and I'm excited to do my part towards that hopeful future." 
The vigil will be open to all, and participants are asked to bring candles, wear masks and respect social distancing guidelines.
Key event details:
Date: Sunday, May 23, 2021

 

Time: 8:00 PM
Location: St. Mark's Church, New Canaan, CT
Website for more information: STAR-CT.ORG
About Stand Together Against Racism:
Stand Together Against Racism (S.T.A.R) is an anti-racist non-profit organization whose mission is to is to equip residents of New Canaan, CT and neighboring communities with tools and resources to understand systemic racism—including its history, root causes and the structures that perpetuate it— and to proactively advocate for racial equity and bias elimination. We believe that by working together, we can drive transformative and sustainable social change in our community and beyond.
S.T.A.R. Local Partners
A Better Chance, Inc. of New Canaan  | B Kind  | The Glass House  | Grace Farms Foundation  | Horizons at New Canaan Country School  | Interfaith Council of New Canaan  | LiveGirl  | NCTV New Canaan Television 79  | New Canaan CARES  | New Canaan Chamber of Commerce  | New Canaan Community Foundation  | New Canaan Country School  | New Canaan Land Trust  | New Canaan Library  | New Canaan Moms Group  | New Canaan Museum & Historical Society  | New Canaan Nature Center  | New Canaan Tourism and Economic Development Advisory Committee  | New Canaan YMCA | Summer Theatre of New Canaan