Leading Environmentalist Bill McKibben to Speak in New Canaan New Canaan Organizations Bring Climate Change Author and Activist to Saxe Middle School
Monday, November, 11, 2019 @ 7:30 pm

-

9:00 pm

$35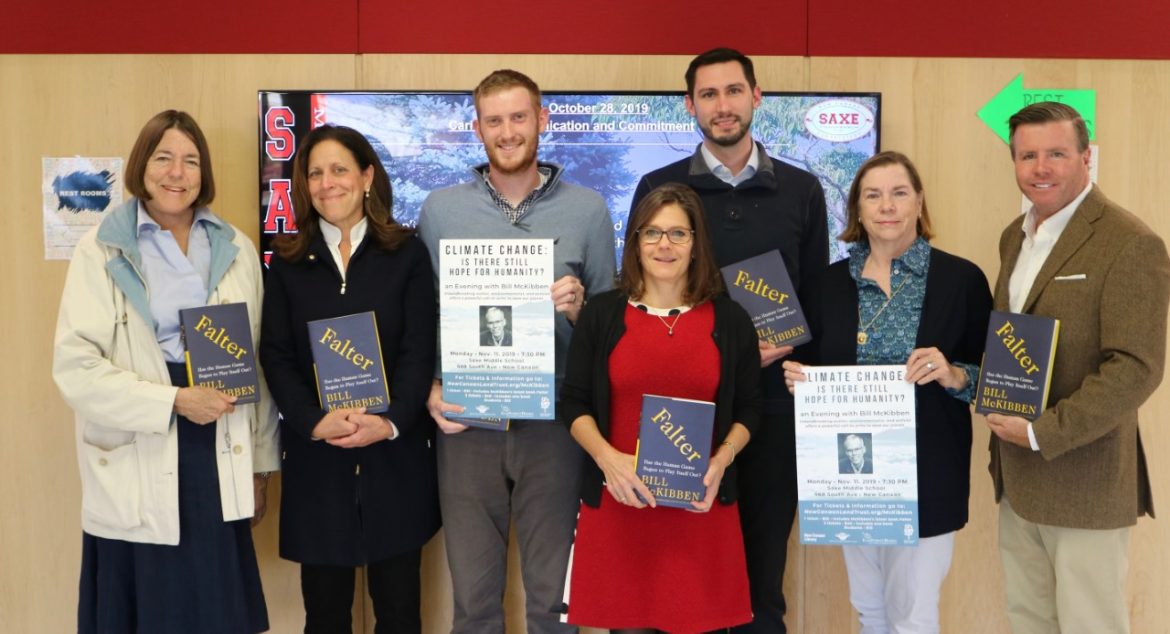 World-famous author, environmentalist, and activist, Bill McKibben, will speak about his recently published book, "Falter: Has the Human Game Begun to Play Itself Out?" at Saxe Middle School on November 11, at 7:30 pm. McKibben is one of the earliest and most well-respected voices on climate change. His groundbreaking 1989 book, "The End of Nature," was the first to alert a general audience about global warming.
"Falter," tells the story of how the converging trends of climate change and new technologies threaten human experience as we know it. Drawing on his experience as founder of 350.org, the first truly global citizen's movement to combat climate change, McKibben outlines possible ways out of the trap before it's too late. His powerful and sobering call to arms to save our planet– and humanity– is sure to galvanize the audience.
Four New Canaan organizations — Elm Street Books, New Canaan Garden Club, New Canaan Land Trust, and New Canaan Library– have partnered to bring the well-known environmentalist to New Canaan. The event will take place on Monday, November 11, at Saxe Middle School Auditorium, starting at 7:30 pm (Doors open at 7:15 pm). Tickets include a copy of "Falter." Additional signed copies of his book will be available for purchase.
For more information and tickets, please go to https://newcanaanlandtrust.org/mckibben/.
Bill McKibben is the founder of the environmental organization 350.org and was among the first to have warned of the dangers of global warming. He is the author of fifteen books, including the bestsellers "The End of Nature," "Eaarth," and "Deep Economy." He is the Schumann Distinguished Scholar in Environmental Studies at Middlebury College and the winner of the Gandhi Prize, the Thomas Merton Prize, and the Right Livelihood Prize. He lives in Vermont.
Elm Street Books has been New Canaan's community bookstore since 2003. It offers a variety of programs including author events, book clubs, and book signings in partnership with the New Canaan Library and surrounding venues, libraries, and schools. It offers a wide range over 22,000 books including NYT best-sellers, along with well-curated fiction and non-fiction collections for children and adults. www.elmstreetbooks.com
New Canaan Garden Club was founded in 1909 and has been a member of the Garden Club of America since 1920. Its mission is to stimulate the love of gardening among its members and the members of the community, to promote conservation, and to encourage civic planting and beautification. www.ncgardenclub.org
About the New Canaan Land Trust
Entering its 53rd year, the New Canaan Land Trust works to build a healthier and greener New Canaan by protecting and stewarding New Canaan's natural resources. By engaging the community in programs, workshops, and other events, NCLT fosters a connection between people and their natural surroundings and instills a conservation ethic in the New Canaan community. www.newcanaanlandtrust.org.
New Canaan Library has been the community's intellectual and cultural center for more than a century. Today, the Library continues as a vibrant community resource for learning and innovation, offering an extraordinary print and electronic collection, dynamic programming, and up to the minute technology and maker spaces. Each day, up to 1000 members come through the doors and thousands of visits are made to the website in search of knowledge, exploration and entertainment.
New Canaan Library looks confidently towards the future, embracing its vision of being the community's source for innovation and discovery. www.newcanaanlibrary.org