'Meet and Greet' the Young Authors of THE PEN-STARS SERIES
Saturday, October, 10, 2015 @ 12:00 pm

-

2:30 pm

Free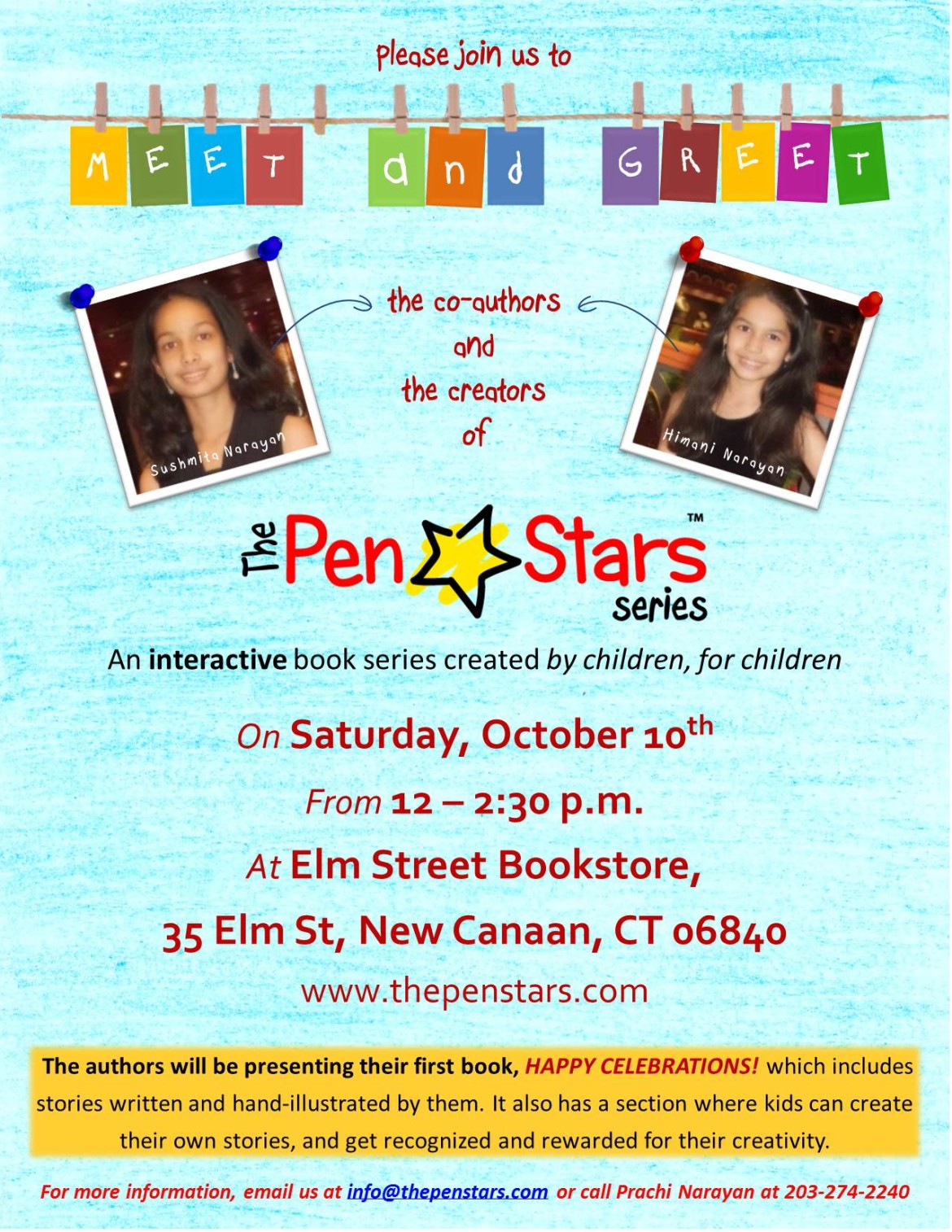 Hello!
I'm writing to introduce you to a very unique children's book series called The Pen-Stars series.
By way of introduction, The Pen-Stars series is an interactive book series created by children, for children. It aims to provide a creative platform for children, from diverse backgrounds, where they can collectively or independently read, write and draw stories and get recognized and rewarded for their creativity. For more information, please visit us at www.thepenstars.com
The co-authors and the creators of the series, Sushmita (14) and Himani Narayan (11), have been invited by Elm Street Bookstore to do a book event there on Saturday, Oct.10th, from 12-2:30, where they will be presenting their first book, Happy Celebrations! written and hand illustrated by them. We were wondering if you would be interested in featuring a story about the authors and their book series in your newspaper to help us spread the word about the book and the event so that more and more children can become a part of our Pen-Stars galaxy.
The Pen-Stars series and its authors were recently featured in The Hour newspaper as one of the most popular stories of the week. Here's the link to the full story:
http://www.thehour.com/news/norwalk/pen-stars-brings-out-creativity-in-children-with-upcoming-library/article_b9bba9ff-313c-58f8-ba2d-25f10c2a0541.html?mode=story
We would appreciate your help in getting the word out about our efforts. Please feel free to call or email me if you have any questions.
Thank you!
Prachi Narayan
Director
The Pen-Stars series
203-274-2240
narayanp@thepenstars.com
www.thepenstars.com