New Canaan Rocks!
June 21 @ 1:00 pm

-

3:00 pm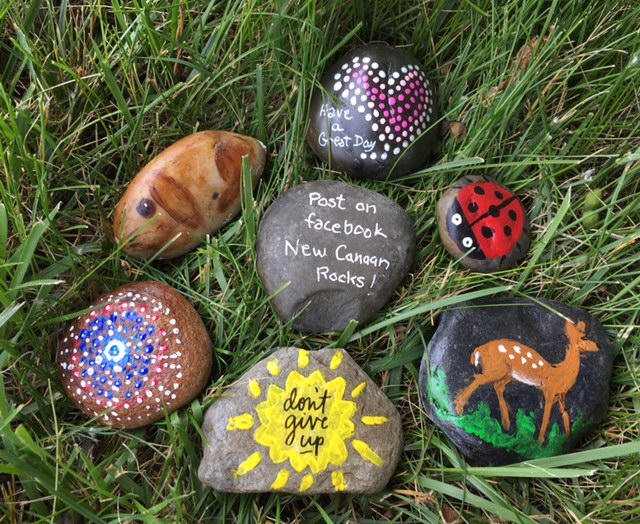 New Canaan Rocks! is a fun way for residents to get in on a fad that is spreading across the country bringing fun, creativity and inspiration in its wake.
It's a simple project:
1. Find some rocks in your yard, at the beach, in a park or buy them in a crafts or hardware store. Just don't take them from someone else's yard!
2. Then paint the rocks with designs, faces, stickers or inspirational words. Great artistry isn't required but having fun is. And since kids love to look for and find rocks, please keep it PG. On the back of your rock, use a marker to write "Post on facebook New Canaan Rocks!" or, if it's a little rock, "Post FB NC Rocks!". Then spray it with sealer so your artwork lasts.
3. Hide your rock outside in a park, on a bench or tree, near a school or playground or town building, but not indoors or in the grass where it might meet up with a lawnmower. If you want, you can post a photo of your rock before you hide it and give a hint about where you hid it.
4. If you find a painted rock, take a photo of it and post it at New Canaan Rocks! You can keep the rock, leave it or re-hide it for someone else to find, or paint a new one to hide.
Staff at Lapham Center have set up a Facebook page called New Canaan Rocks! Join the group and then start posting your rock photos.
There will also be rocks, paint and sealer available at Lapham Center on Thursday, June 21 from 1-3 p.m. Stop by and paint a rock to hide.