The Liberal Redneck presents: The wellRED Comedy Tour
Wednesday, November, 14, 2018 @ 8:00 pm
$49.50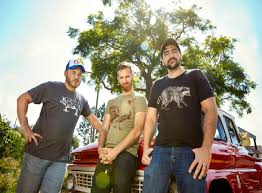 Comedians Trae Crowder (The Liberal Redneck), Drew Morgan and Corey Ryan Forrester bring the humor from their viral YouTube videos and best-selling book, Liberal Redneck Manifesto: Draggin Dixie Outta the Dark, to the stage for a night of hilarious stand-up! This show is about celebrating everything great about the South and telling stories from a place of love. It's about dancing to country music at a gay wedding. It's about loving your neighbor whether you have the same religion, skin color or sexual preference, as long as they cheer for the same college football team. It's about leaving behind bigotry, but remembering the fried okra.
Do you love all people, but also love blowing shit up? Well, this show is for you.
Trae Crowder's series of "Liberal Redneck" viral videos have been watched by more than 115 Million people on Facebook and YouTube.
This event is part of the Barts Tree Service Comedy Series and the Northeast Builders Emerging Artist Series.