$1 billion of property value lost in decade-long rout
Half the town is in for a surprising tax hike in the New Year
Critical moment for staying competitive with neighboring towns
What happens when a town's revenue base declines for a decade while the government goes on a spending spree? 
We're about to find out. 
Home Value Rout
For revenue, New Canaan's government relies on taxing property. That property is getting reassessed much lower—with a proposed assessment decline of more than $500 million representing a fair market value loss of almost $750 million. On average, more expensive homes have declined the most, with the assessment of homes previously assessed at between $2 million and $5 million declining by 10 percent. At the same tax rate, those property owners will pay for a smaller percentage of government spending as a result of that decline.  A majority of New Canaan homes were previously assessed at under $1 million. Their new assessment shows an average 2 percent decline. These 4,200 New Canaan property owners are about to get hit with a tax hike necessary to pay their greater share of the tax burden combined with the greater government spending. Many rates will increase by more than 10 percent.  
Government Spending Boom
While New Canaan's revenue base is in decline, its government spending is booming—rising each year over the past decade without any pause for years with declines in economic growth and population. New Canaan is number one in Connecticut in government spending and debt  per resident. The government's consensus solution to the decline in property values is to keep the government growing by hiking tax rates. A recent survey of New Canaan government leaders indicated that 81 percent think that more government spending is acceptable to taxpayers, 15 percent think that the current level is acceptable, and 4 percent believe that less spending is acceptable.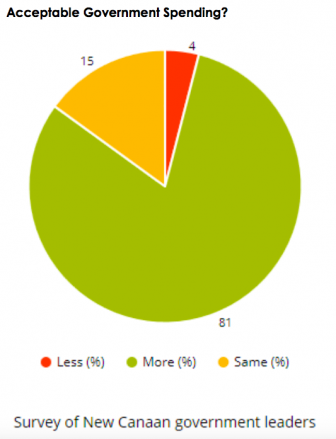 Neighboring Town's Lower Rates
In comparison, Darien decided to lower its tax rate last year. After our respective revaluations, New Canaan's rate will by around 19 percent higher than theirs. For individual taxpayers, this difference might not be too consequential. You may not mind paying higher taxes, but the cost is not a matter of a few thousand dollars of taxes each year. The real cost is that the marginal demand for our town could dramatically decline as the value proposition becomes relatively less attractive. Lower assessments plus higher government spending equals a tax rate that makes our town less competitive than our neighbors. 
Critical Time for Better Decisions
The bad news is that this creates a feedback loop that will lead to further degrading property values. The good news? This feedback loop works in both directions. If the government reverses its current course on spending, we can lower tax rates, become more competitive, and drive property values back up. We are not dealing with forces of nature; we are dealing with the consequences of decisions. The good news about bad decisions is that we can turn things around by holding the line on taxes and spending in order to make our town more competitive. If we decide to keep our tax rates beneath neighboring towns, our town will attract more demand, and our after tax market value will rise.