For me, she will always be 'Aunt Bev.'
Though not related by blood, Beverly Greenberg was as close to my family growing up as anyone. She passed away Friday at age 92. A small service at Hoyt Funeral Home is planned for Tuesday with a wider community service to come in the spring.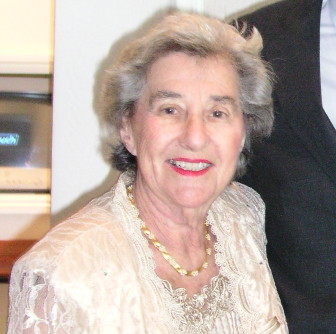 Known to generations of New Canaanites as an administrative assistant at Center School, Bev was amazingly active in the community for decades. She helped erect the Center School bell at the corner of Maple and South where for so many years she was a most welcoming and familiar face and voice and integral part of the fabric that made that mythical place so special.
"She was our Mother Superior—when you'd walk into the office [at Center School], whether you were a teacher or a kid, she would know everything that was going on," recalled Elaine Scott, a Saxe Middle School teacher who's retiring at the end of this year and is one of just two Center School educators still active in the district.
"She had 12 eyes—on the clock, the mailbox, and she knew what every single person needed as they came through that doorway and she gave it to them. She made us all better people and teachers. She loved to laugh. If there was a joke, something going on—some juicy gossip—she would want to know because what she loved was people. She wanted to be involved with people constantly. One of the last times I saw her, I was having dinner with some Center School friends out at one of the outdoor dining establishments, down on Forest, and she came by with a friend—just sailing down the street like a queen, and seemed to know everybody and stopped at every table and had a conversation. She was the kind of lady that you always notice because she had such stature in that tiny little body. Her eyes were everywhere and noticing things about people, and saying just the right thing that a person needed to hear. It's a real talent, and it made everybody love her."
She started a knitting group in town that donated items to area hospitals for newborns—an especially fond memory of Bev Greenberg for Hazel Hobbs, an educator (and parent) at Center School who now serves as chairman of the Board of Education.
​"Bev truly loved people," Hobbs said. "No one was a stranger. She had a smile and a hug for everyone. She reached out to help children, teachers, parents, people. For years, she knitted sweet little caps for newborns. She organized other people to knit them—and all were donated to needy families. Her kindness, thoughtfulness and humor will be missed."
Said Center School's Shelly Senator: "Bev was an amazing woman. After Center School, which she helped to run, Bev was always involved in good works or social engagements. She knitted for various groups, painted, wrote. She had a big heart and was always willing to help anyone who was in need. She was a good friend and will be sorely missed."
In fact she was prolific as a writer and part of a group that penned short fiction and published an anthology each year, said longtime Center School teacher Mary-Ellen McDonald.
Bev helped establish the Groher bench at the corner of Farm Road and South Avenue, just up the street from where legendary New Canaanite Judge Julius Groher lived.
She was the wife of iconic New Canaan photographer, the late Syd Greenberg, mother of David and Philip Greenberg, the grandmother of Mia, Tess, Jacob and Isabel.
She helped establish the annual lighting of the Menorah on God's Acre each Hanukkah.
McDonald recalled how generous Bev was with her family's traditions.
"One of my favorite pictures—one that Syd took—was Bev offering my daughter her first matzo at Passover and my daughter was wearing her bunny costume," she recalled. "We came over to see Bev, my daughter in her pink suit and I put bunny ears on her and it was Passover and Easter at the same time. She was always sharing everything, such a neat lady. Working at Center with her was a kick. We had many happy memories of years at Center School together and then after I stopped teaching, to have my family, she was always so wonderful to me and Bill and our two children. She was a sweetheart and Syd was fabulous."
Bev also was an active contributor and volunteer for the Health and Human Services Department, the New Canaan Historical Society and the New Canaan Library.
She "loved New Canaan and she was very much a part of the whole town of New Canaan," was "enthusiastic and involved in so many ways, and that is the way she has always been," recalled Marie Pinchbeck, a longtime kindergarten teacher at Center who exchanged cards with Bev for years around the holidays. "Center School was a wonderful place because Bev was always there saying 'Hello' to everybody. I think it's wonderful that she did pass away peacefully with her family all around her. She had a wonderful life with her husband and family."
When I was a kid, Bev and Syd's house at 75 Parade Hill Road was always the first stop for the Dinan family on Halloween. This tradition continued for my own children after we moved back to the old neighborhood. I think it was as much of a nostalgic treat for Aunt Bev as it was for me to see my kids walking in my footsteps.
Bev was always the first person to wish Andrea and me a happy anniversary—more often than not serving as my reminder (savior) of the occasion. I think it was her subtle way of thanking us for having her and Syd sit with my family, both at St. Mark's and our reception.
We wouldn't have it any other way.
When Syd passed away in 2012—also at age 92—Bev organized a celebration of his life. Through unimaginable pain and sorrow, I witnessed this woman single-handedly pulling it all together. Friends, relatives and town dignitaries came from far and wide. It was an outpouring of love that I don't think she even realized could happen. It also showed just how much she and Syd meant to the community. Philip and David have told NewCanaanite.com that there will be a similar celebration of Bev's life in the spring—"That way we can do her justice and in style," David said.
Our mom, Shelley Freeman (then Dinan), recalled visiting Bev more as a neighbor than colleague at Center, and a "wonderful hostess."
"She would have something for us to 'nosh' on," mom said. "We would talk about the goings-on at Center School, and when it closed, we would reminisce. She became active at the Senior Center, and shared her enthusiasm for the various activities in which she became involved. Always smiling and upbeat, she was one of a kind in our neighborhood, a dear lady whom I'll never forget."
McDonald, speaking from Florida where she spends part of the year, recalled that when Syd passed, she helped Bev get organized and was pleased she ended up at the New Canaan Inn, where she could continue writing and access downtown easily.
"I had sent her a birthday card and she emailed back a note," McDonald recalled, "and I said I'd come home in April and see could see my daffodils—I have a big beautiful field of daffodils—but she didn't make it this year."
She was one of a kind. A treasure. An institution.
For me, she will always be 'Aunt Bev.'
—Michael Dinan contributed to this article.