Town resident Ellen Crovatto, prior to joining New Canaan Library as its development director, spent a career in investment banking.
She worked 12 years on Wall Street and the last part of her career was spent raising private equity capital for investing in the former Soviet Union.
"My role was to invest and raise half a billion dollars for the very first early stage investment in Russia in vouchers," Crovatto recalled on a recent morning.
And in that role, she crossed paths—at conferences, for example—with Bill Browder, the founder and CEO of Hermitage Capital Management who would go on to publish the nonfiction bestseller "Red Notice," subtitled "A true story of high finance, murder, and one man's fight for justice."
An absorbing book that is, as the back cover says, part "financial caper," as well as "crime thriller" and "political crusade," "Red Notice" tells the story of Browder's intrepid and freewheeling professional entry into post-Soviet Russia, launch of Hermitage and subsequent clashes with corrupt Russian government officials and oligarchs, punctuated by the death of his own attorney, Sergei Magnitsky (whom Browder calls "the bravest man I have ever known" in a photo caption).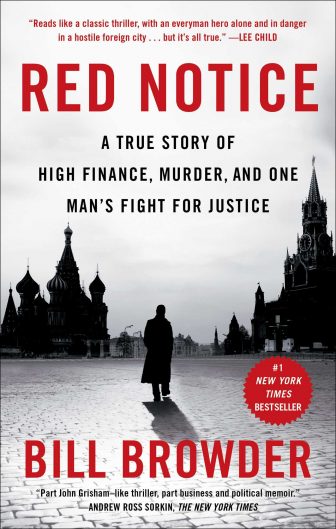 Next month, thanks to Crovatto's connection to him, Browder will come to New Canaan for a special library-organized event. Browder will appear Nov. 30 at the New Canaan High School auditorium—registration requests are required.
Browder knew who Crovatto was because she had success in raising capital for investment in Russia, and "then he went on to do it with Credit Suisse First Boston," she recalled.
"I eventually got out of the business for a variety of reasons, family among them. But when I heard about this book and I understood how important his role was in the creation of the Magnitsky Act," Crovatto recalled, she "understood immediately that that was shorthand for this sort of counterpunch that the government had for Putin."
She referred to the bill that President Obama signed into law five years ago, recognizing and punishing the Russian officials who killed Magnitsky while in custody in 2009. The law emerged in the news again this summer when the New York Times reported that Russian officials had met with Donald Trump Jr. during the 2016 presidential campaign to discuss it—as well as U.S. adoption of Russian children, which the former Soviets banned in retaliation for the Magnitsky Act—in exchange for promised damaging information on then-Democratic presidential hopeful Hillary Clinton.
"And Bill had started to raise his profile a bit and I just had sent him an email and I said, 'Hey remember me from years ago' and 'Would you consider coming to talk to us, we would love to have you here and here's what we could do.' And he said 'Sure.' "
His appearance fits nicely into the library's approach to programming—which Executive Director Lisa Oldham said mirrors its approach to collections.
"When we think of a collection of books, we are looking to have representation of all the areas of knowledge in the collection and we approach programming the same way," she said. "So, for example, having a speaker on human rights and finance is really important. We understand our audience is extremely well educated and hungry for really good quality content. So the team has as its goal making sure that we are getting the most interesting speakers on the widest range of topics that we possibly can."
Crovatto noted that the library has taken the themes of Moscow and Russia and expanded them throughout the entire month of November.
The library's annual Literary Luncheon—its largest fundraiser, which sees 400 guests go to Woodway with an author—this year features Amor Towles, author of "A Gentleman in Moscow."
"It's read widely by all kinds of book groups," Crovatto said. "We are practically already sold out and it's quite a big deal."
Together with Browder's talk, the Literary Lunch—to be held Nov. 2—is a kind of bookend, Crovatto said.