Our Changing Menu: Climate Change and the Foods We Love and Need
Tuesday, December, 7, 2021 @ 7:00 pm

-

8:00 pm

Free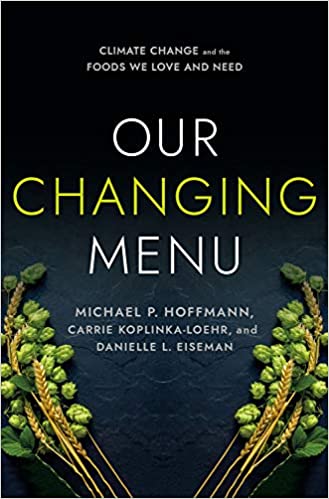 Whether you're a chef, environmentalist, or someone who simply enjoys a good meal or cocktail, author Michael P. Hoffmann fascinates audiences with his telling of the increasingly complex story of climate change through its relationship to our most basic necessity: food.
"Melting glaciers are bad enough but the loss of coffee is downright terrifying," writes Hoffmann with co-authors Carrie Koplinka-Loehr, and Danielle L. Eiseman in Our Changing Menu: Climate Change and the Foods We Love and Need. Hoffmann will join Planet New Canaan and New Canaan Library via Zoom to engagingly balance the facts about climate change with a celebration of food and an appreciation for those who create and supply the menu—from before-dinner drinks and salads; main courses and sides; to coffee and dessert. What's happening to spices and teas, the yields of wheat, the vitamins in rice, and the price of vanilla? Find out how our global food system works, and what we can all do from the common ground of food to help tackle the greatest challenge of our time. Elm Street Books in New Canaan will carry signed copies of the book.
Michael P. Hoffmann is a Professor Emeritus in the College of Agriculture and Life Sciences at Cornell University.
Planet New Canaan is a nonpartisan volunteer organization that raises awareness of local and global environmental issues, and offers practical actions to address those challenges. For more information, visit planetnewcanaan.org.