A three-year starter and captain of the baseball team, Paul Devlin earned a number of honors for his performance during his senior year. The 1982 NCHS graduate was named first-team All-FCIAC, first team All-State and was named to the Connecticut team that played against a team of all-stars from Massachusetts in the annual game between the two states.
In his senior season, Devlin–a third basemen–hit .493 and broke Bobby Valentine's FCIAC record for number of hits in a season. The record had stood since 1962. He also drove in 30 runs in 20 games for head coach Keith MacBain and the Rams that year.
In addition, Devlin was a member of Lou Marinelli's first football team at NCHS and started at outside linebacker for the Rams.
Devlin was also named to the U.S. High School All-Star team that traveled to Taiwan to play in a five-game series against the Taiwanese All-Stars. He earned a scholarship to the University of North Carolina at Chapel Hill where he was a four-year letterman and a member of the 1984 ACC Championship team.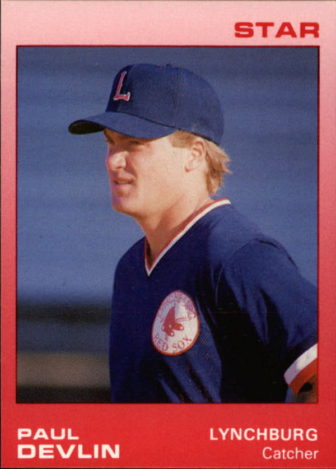 After college, Devlin signed as a free agent with the Boston Red Sox organization, playing two years in Lynchburg, Virginia, the Class-A affiliate in the Carolina League. In his first year–spending most of his time as a catcher and DH–Devlin hit .246 while belting four home runs and driving in 42 runs in 220 at-bats.
Life imitated art for Devlin in the Carolina League. He appeared in the classic 1988 baseball movie Bull Durham well before the season started and was featured hitting a home run off Nuke LaLoosh (Tim Robbins) after Crash Davis (Kevin Costner) told him what pitch was coming. Devlin reprised his movie role when he was in Durham playing the Bulls later that year, hitting a home run in virtually the same spot he did in the movie.
After his baseball career ended, Devlin worked in television as a sportscaster. He worked at Fox Sports Net in Atlanta and Arizona and at NESN in Boston where he was the beat reporter for the New England Patriots. He's currently a free-lance news reporter for News 12 in Westchester and Hudson Valley.
Devlin currently resides in Norwalk.
The New Canaan Alumni Athletic Association/New Canaan Old Timers Association will hold its annual picnic on Sunday, September 18 at Waveny House.
This year's event will feature eight honorees: Bill Brown, Kara Devlin, Paul Devlin, Cari Hills, Mario Lopez, Jeff Mellick, Bob Schott and Andy Towers.
The celebration runs from 10am to 3pm and includes a continental breakfast, beverages and lunch. The cost is $50 for adults, $20 for students. Children under 14 are admitted for free.
Checks may be made payable to New Canaan Old Timers and mailed to P.O. Box 1642, New Canaan, CT 06840.
Proceeds from the event go toward the Vin Iovino Scholarship, named for the former NCHS athletic director and presented to selected senior athletes at the annual sports picnic and award ceremony held at the end of every school year.