If the success of New Canaan's youth football program is a harbinger of things to come, longtime NCHS head coach Lou Marinelli might want to coach for another 35 years.
For the second consecutive year the NCYF 4th Grade Black and Red football teams won the FCFL Co-Championship, as both teams defeated their counterparts from Wilton in the division semifinals this past weekend thereby clinching the shared title for New Canaan.
New Canaan 4th Grade Red 14 – Wilton White – 0
Wilton White opened the game with a deep drive into NC 4 Red territory, but 4 Red's stout defense would show its teeth. The 'Fearsome Foursome' of Miles Chisolm, Michael Fico, Keegan Noon and Jake Somma ignited the defense, with Somma slashing through the Wilton line to make a key tackle for a loss. Soon after, Alex Benevento flew up from safety, slamming a Wilton runner on 4th and short for a turnover on downs.
Using that momentum, 4 Red's league-leading offense worked quickly to grab the lead.  Cooper Smith and Thomas Garcia each gashed the Wilton defense for  yardage, followed by Benevento ripping a 30-yard QB sneak behind key blocks from Trey Kaupp and Luke Reed. On 4th and goal from the five yard line, Benevento faked a reverse, received perfect seal blocks from Owen Lydon and Sam Bisesi and was led to the end zone by Hayden Roeder and Garcia, giving 4 Red a 6-0 edge.
New Canaan forced a quick three-and-out with Somma, Benevento, Smith and Fico combining to hold Wilton to negative yardage. 4 Red was unable to capitalize, however, as a beautiful, 4th down seam pass from Hayden Roeder was tipped away from the waiting arms of Benevento for a sure TD.
With 2 minutes remaining in the half Wilton went into hurry-up mode. New Canaan was ready as Bradley Werneburg split two blockers to stymie a Wilton sweep, Garcia scraped off the edge to nail Wilton's toughest runner for a loss and Cooper Smith stuffed Wilton's last gasp reverse to preserve a 6-0 halftime lead.
Starting with the ball in the 2nd half, 4 Red went into 'ground and pound' mode. Ryan Barnard, Luke Bopp, Logan Gilbert, Gian Karimnejad and Ben Reagan helped open holes for Smith, Benevento and Garcia, who repeatedly racked up big gains. Capping the drive, Smith bounced an off-tackle run for 15 yds before Garcia rumbled into the end zone from the four. Bisesi drilled the PAT to put 4 Red up 14-0.
Any hopes of a Wilton comeback were quickly extinguished. The 'Huggy's Heroes' front four of Ned Smith, Kaupp, Lydon and Jackson "Huggy Bear" Roeder was an immovable force up the middle. When Wilton tried to sweep outside, Doster Crowell forced a fumble with a perfect form tackle, recovered by Roeder.
While ultimately ruled down by contact 4 Red's defense was relentless, eventually forcing a turnover on downs with 7 minutes remaining and allowing it's vaunted offense to grind the remainder of the clock for a 14-0 victory.
***
New Canaan 4th Grade Black 20 – Wilton Blue 8
Wilton Blue shocked NC 4 Black, whose stingiest defense in the league had surrendered a mere 26 points all season, by breaking the first play from scrimmage for a 60-yard touchdown run. 4 Black fell behind for the first time all year, 8-0.
Undeterred, 4 Black's 'red offense' behind center Ryan Axon, guards Walter Schmitz and Colin Smith and tackles Brady Pesaturo and Ahmad Salloum went to work. Despite quarterback Chris Ippolito completing his first two pass attempts and a hard fought run by Jack Sheffield behind the masterful blocking of tight end Drew Russell, the drive faltered, but did pin Wilton deep in its own territory.  This set the stage for 4 Black's fearsome defense which posted a three and out, holding Wilton to negative yardage with tackles by linebackers Colin Finnigan, Harrison John and Wilson Crowley.
4 Black's 'black offense' took the field behind the behemoth bruisers of its offensive line. Averaging over 100 pounds, tackles Charlie O'Conner and Billy Heyn, guards Carter Sihpol and Benj Sibbett and center Ben Michels dominated the Wilton line, blasting a giant hole and allowing fullback Abe Wheeler to grind out seven yards on first down. On the next play, a devastating downfield block from tight end Luke Frame sprung powerhouse running back Luke Bryant, who broke no fewer than seven tackles steamrolling a 44 yard touchdown run. With the PAT deflected by the swirling winds, 4 Black trailed 8-6.
On the next drive, 4 Black defense continued its season long rain of ruination. Gray Tamasco and Sihpol smashed an off-tackle play in the backfield, while defensive end James Wise crushed three Wilton blockers to stop a sweep five yards in the Wilton backfield, forcing Wilton to punt.
Despite marching down the field the ensuing New Canaan drive was derailed by fumbles. On the first, disaster was narrowly averted as Heyn recovered, but Wilton corralled the second. The following defensive effort, featuring spectacular tackles by Finnigan and tackle Chris Harrison negated the turnover and held Wilton to halftime.
After the half, 4 Black staged an all hands effort to break the stalemate. Red offense began the drive with bruising running by Wheeler to push across midfield on a gutsy 4th and short run. Black offense took over the drive, blasting open a hole for a 10 yard scamper by Bryant to put New Canaan up 12-8.  Completing a multi-talented display, Bryant's PAT gave 4 Black a 14-8 lead.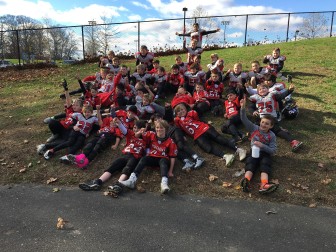 Three plays later Wilton was again forced from the field after being held to negative yards. Moments later, following a devastating cross block by O'Conner and tight end Wise, Bryant once again found the end zone from fourteen yards out building a 20-8 lead with just under eight minutes remaining.
The New Canaan defense shattered the final Wilton drive when tackle Ben Michels surged with the rest of the line deep into the backfield, slamming the ball loose to be recovered by Sihpol ensuring the New Canaan victory.
As time ran out and the victory was secured, NC 4th Grade Black and Red teams stormed the field in triumph, joined proud parents and coaches to celebrate their second co-championship in as many years.