New Canaan Police are investigating a vehicle reported stolen from a Valley Road home  at 9:08 a.m. on Aug. 30. It was recovered in Milford, police said.
***
Shawna Ferraro, the 2023 New Canaan High School graduate who set a record in the 1600 meter run in February, scored two goals in her first collegiate field hockey game for Middlebury College. We also heard from a surprise spectator (see photo) that it was Shawna's 19th birthday. The team sang "Happy Birthday" to her after the first goal.
***
Make-A-Wish Connecticut's "Taste of Wishes" event, featuring celebrity chefs, delicious food and granting wishes for children with critical illnesses will be held 6 to 8:30 p.m. on Tuesday, Oct. 3. Details and tickets here.
***
Check out the new installment of "The Best Small Business Show" podcast with BJ Flagg of New Canaan's nurenu brand marketing.
***
We're hearing there may be a new suitor to purchase Vine Cottage.
***
Fun event coming up soon, a seated lunch with wine catered by Diane Browne, organized by the New Canaan Museum & Historical Society: "Lunch4Design: What's the Uproar? The Dress that Rocked the '50s."
***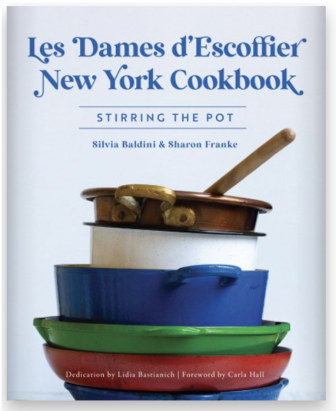 New Canaan's favorite chef, 2015 "Chopped" winner Silvia Baldini, is publishing her new book Sept. 18. The book, "Les Dames d'Escoffier New York Cookbook: Stirring the Pot," compiles recipes, advice and stories "from 61 of the most influential and accomplished women in the food and wine world," according to CT Bites. Proceeds from sales benefit the Les Dames d'Escoffier New York's Scholarship Fund. The book is listed here on the Elm Street Books website.
***
Police at 8:16 p.m. on Aug. 31 received a report of a purse stolen overnight from an unlocked vehicle on Ponus Ridge. The investigation is ongoing. 
***
Here's the new "Wine Minute" from Francos Wine Merchants on Elm Street:
***
The New Canaan Nature Center's hugely popular Fall Fair is to be held 5 to 9 p.m. on Friday, Sept. 29 and 10 a.m. to 6 p.m. on Saturday, Sept. 30. Details and registration info here.
***
The Board of Selectmen on Tuesday approved the hiring of the delightful Sharon Wynter as a full-time administrative assistant to the Town Clerk. Wynter has been working in the Town Clerk's office for two years and "I believe Sharon will be a great addition," town Human Resources Director Cheryl Pickering-Jones told the selectmen at their meeting. In all, 39 people applied for the job, she said.
***
Planet New Canaan's Green Gala will be held 6:30 to 8:30 p.m. on Thursday, Sept. 14 at the Carriage Barn Arts Center (tickets here). Sponsors include Walter Stewart's Market, Northeast Building Supply, Karl Chevrolet and NewCanaanite.com. 
***
"You'll shoot your eye out!" Tryouts for the Town Players of New Canaan's production of "A Christmas Story" will be held 7 to 8:30 p.m. at the Powerhouse Theatre in Waveny (the show itself will run weekends Dec. 1 to 17).
***
Police at 6:05 p.m. Monday received a report of a damaged mailbox on Wahackme Road. It's being handled by the homeowner as a civil matter, police said. 
***
The 2023 season at the Steve Benko Pool in Waveny closes Friday.
***
Wishing Ben all the best. He'll be missed at Walter Stewart's Market:
***
The Carriage Barn Arts Center's 2023 Annual Member Show opens with a reception to be held 4 to 6 p.m. Saturday.
***
New Canaan Public Schools is offering $150 per day for substitute teachers working three-plus days within the same week. More info here.
***
The annual Sept. 11 remembrance ceremony will be held starting at 9:59 a.m. on Monday, Sept. 11 on the front lawn of Town Hall. 
***
Chris O'Neill and Paul Valenti of the comedy duo "The Chris and Paul Show"—finalists on NBC's "Bring the Funny"—are teaching a comedy workshop for adults at the Powerhouse Theatre, home of the The Town Players of New Canaan, from 1 to 4 p.m. on Sunday, Sept. 17. Details here.
***
This is coming up soon—get your tickets before they're sold out: Tickets are on sale for Lobsterfest 2023, scheduled for Sept. 29 and 30 at the Steve Benko Pool in Waveny. Lobsterfest is a major fundraiser for the New Canaan Rotary Club. More background here.
***
Finally, here are more events worth checking out (add your event to the Community Calendar here and we'll share it with fellow residents):