As we enter a new decade and a vision of 2020 comes into focus, many New Canaanites are zeroing in on self-care. After all, it's Jan-you-ary and no longer De-them-ber. I am borderline giddy to embark on a path to wellness, since most of December was spent sidelined by a head cold that just couldn't quit me. 
I hate to point fingers, but the carrier monkey of our poorly timed pre-Christmas plague was my better half. Normally my husband is the last suspect on my list of human petri dishes, since he has a freakish ability to will his body to wellness. However, this year, he succumbed to hosting a super virus that handily took him down. Luckily, my husband does not have the man-cold gene that afflicts many: He suffers like a dignified woodland creature that wanders deep into the forest to quietly die. My hubby self-banished to the guest room, displacing my piles of laundry, and honorably handled the business of getting his health back on track without any drama. 
After my husband emerged from self-quarantine reborn and victorious, I could feel my body subtly making accommodations to host the same superbug. Unfortunately and ironically, I have the man-cold gene. When I get sick, I make sure everyone suffers with me and rides along on the mama-drama train. 
At the first sign of illness, when there is still a glimmer of hope in thwarting it, I beeline to Jim and Margaret Wenzel at Healthfare downtown. Their knowledge is matched only by the myriad natural health remedies that stock their shelves. I have an enviable stockpile of top-of-the-line probiotics, echinacea, Elderberry lozenges, Elderberry chews, Elderberry-infused supplements, Zinc in multiple forms, and as much vitamin C as is street legal. At the onset of any symptom, I down a potent cocktail of Z-Elder-C (a proprietary recipe, quite possibly near-lethal, and patent-pending), which has historically helped sidestep many a cold. However, this year's pre-Christmas plague steamrolled me and my efforts to vitaminimize its effects. As a result, I had to implement the second wave of defense – good ole pharmaceuticals. I'm not proud, Jim and Margaret.
When I am less hopeful of a swift rebound and the desperation takes over, I head to the pharmacy. At Walgreens, I assessed decongestants, antihistamines and expectorants, but the hardcore, behind-the-counter versions beckoned from afar. I was desperate to get back into the Christmas game, so I had to call in the big guns: the cold meds that require photo ID. The forbidden assortment of remedies are kept so out of reach that you can't see the entire array. Meth-heads have really ruined the system for anyone who is nearsighted and likes to handle the packaging. After I randomly selected some methy decongestant options, the cashier alerted me that I exceeded my legal quota and I would have to narrow down my selection. Talk about a Sophie's Choice. I settled on one that I hoped could prevent an elephant from walking in a straight line.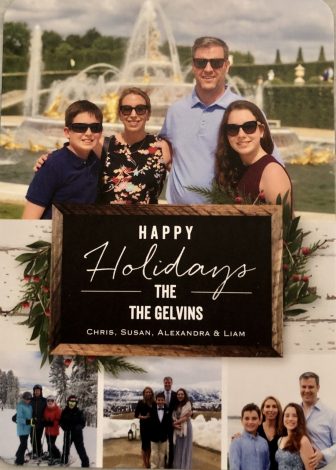 Between my Z-Elder-C cocktail and the elephant tranquilizer-decongestant, I woke up a week later, still sick, and realized that December was slipping away. I had yet to order Christmas cards, put up any holiday decor, or purchase much of anything outside of Walgreens. It was looking grim. Fortunately, the upside to sleeping for a week is that you eventually get sick of being sick, so you will yourself to be well. I forced myself to accomplish the tiniest of tasks and set off to do my very best with the least amount of energy: I managed to hang the bare minimum of outdoors lights, after an embarrassing number of attempts; I ordered a holiday card and it arrived with only one huge, glaring error; and my frantic, impulsive (perhaps pseudoephedrine driven) online gift shopping resulted in just a handful of duplicate orders and questionable choices. Overall, my efforts were passable and everything worked out in the end. 
I did not have to call off Christmas.
The super virus has finally vacated my body in time for January, a month of unbridled optimism and ambitious wellness goals. After being on the down-low for weeks and faking wellness, I feel like a caged animal ready to break free and hit the gym, go for a run, and finally breathe without bruising my ribs. But first, I will have to stop by Healthfare to restock my supplies and alert Jim and Margaret that their No. 1 customer is alive and finally well.