New Canaan Dog Days
May 7 @ 11:00 am

-

4:00 pm

Free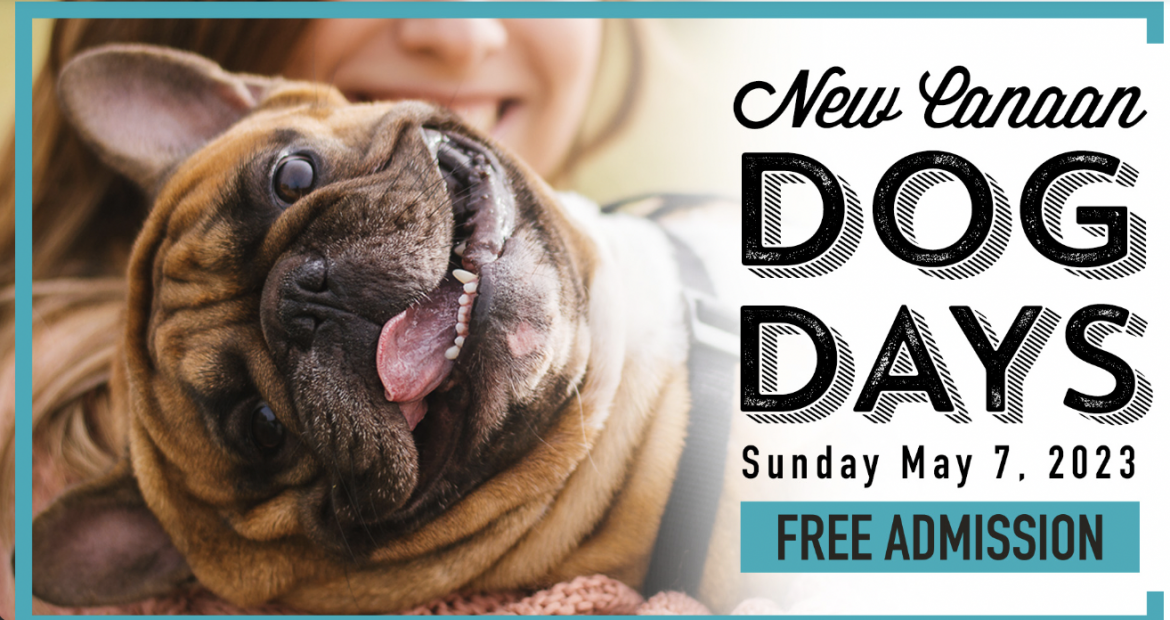 NEW CANAAN, Conn., Wednesday, April 5th, 2023 – New Canaan Dog Days, presented by Pet Pantry Warehouse, is set to take place on Sunday, May 7th at the New Canaan Nature Center (144 Oenoke Ridge). The event runs from 11:00 a.m. to 4:00 p.m. and promises a day filled with entertaining and educational activities for families and their furry friends. This year, Pet Pantry Warehouse has partnered with Rock Paper Scissors Custom Events to organize two unique scavenger hunts; a pre-Dog Days event in downtown New Canaan titled "Paws in Stores" on Saturday, May 6th, and "Tails on Trails" during New Canaan Dog Days at the Nature Center. More information and registration links can be found below:
Pet Pantry Paws in Stores Scavenger Hunt (Said with British Accent)
https://www.eventbrite.com/e/pet-pantry-paws-in-stores-said-with-british-accent-tickets-555294289167
New Canaan Dog Days 'Tails on the Trails'
https://www.eventbrite.com/e/scavenger-hunt-at-new-canaan-dog-days-tickets-549629244867
Pet Pantry Warehouse, a community-based, family-owned, and operated pet supplies retailer in Fairfield and Westchester County, is proud to support local non-profit organizations like Adopt-A-Dog (
https://adopt-a-dog.org/
) and the New Canaan Nature Center (
https://newcanaannature.org/
) through these exciting events. Paws in Stores is a free scavenger hunt that includes 10 downtown merchant locations where participants will be entered into a prize drawing to win Venture Photography Studio sessions (worth $750). Additionally, 'Tails on the Trails' is a fundraiser and self-guided tour across 40 acres of land where participants write down the letters they find along the way to uncover a famous saying and be entered into a live prize drawing.
The New Canaan Dog Days event will showcase games, competitions, family activities, entertainment, small business vendors, and plenty of free swag from premium pet food brands. This event is FREE to the public and attracts large numbers of attendees, creating a sense of community while raising money for worthy causes like Adopt-A-Dog and the New Canaan Nature Center.
"New Canaan Dog Days is not just an event, but a celebration of the love and companionship our pets bring into our lives. We come together as a community to enjoy engaging activities, learn about responsible pet ownership, and support wonderful organizations like Adopt-A-Dog and the New Canaan Nature Center. Our goal is to create an unforgettable experience for families and their pets while making a positive impact on the community and the lives of animals in need. We are very excited to partner with Rock Paper Scissors this year to further ramp up the fun." said Adam Jacobson, Executive Vice President at Pet Pantry Warehouse.
In addition to the New Canaan Dog Days, Pet Pantry Warehouse will host several signature events throughout the year, including the Mutts Gone Nuts Pre-Party at Sacred Heart Community Theatre on April 15th  at 12:00 p.m.; Fairfield Dog Days at 611 Old Post Road on Sunday, June 25th from 11:00 am until 4:00 p.m.; Puttin' on the Dog at Roger Sherman Baldwin Park in Greenwich on Sunday, September 24th from 10:00 a.m. until 4:30 p.m.; Harvest Fair October 14th,  featuring a dog parade and costume contest, at Old Town Hall Green from 10:00 a.m. until 4:00 p.m.; and Howl & Prowl at Greenwich Town Hall/Havemeyer Fields on Sunday, October 22nd from 1:00 p.m. until 4:00 p.m., which will also include a costume contest.
These annual events, known as "the ultimate furry fun-raisers", serve to strengthen the bond between the community and its pets while supporting local non-profit organizations. Pet Pantry Warehouse is dedicated to providing quality pet supplies and giving back to the community that has supported them for years.
Join Pet Pantry Warehouse for a fun-filled weekend at the New Canaan Dog Days and the "Paws in Stores" scavenger hunt. Don't miss the opportunity to support Adopt-A-Dog and the New Canaan Nature Center while enjoying memorable experiences with your family and furry friends. Mark your calendars and come celebrate the joy of pet ownership and the spirit of community at these exciting events. For more information, please visit Pet Pantry online (ppwpet.com), subscribe to the PPW email list, and follow along on social. Event details will also be available at each of the retail locations. @PPWPet #PPWPet
# # #
About Pet Pantry Warehouse
Pet Pantry Warehouse, is a community-based, family-owned, and operated pet supplies retailer. Products are carefully sourced to ensure quality and value. The history of the Pet Pantry began in 1945 with World War II Army Air Forces servicemen, Mort Davis, and Jac Cohen. The pair formed their alliance over a British puppy adopted by Davis while stationed in wartime England. After accomplishing a stateside transfer for the lucky pup, the two remained friends, joining forces in the pet food business. Davis passed away in the late '60s, but Cohen soldiered on with their enterprise through 1995, when the business was purchased by Barry Jacobson and his sons Adam and Ari, who run the business today.
When the business was re-conceived in 1995, the large warehouse space which was home to the original Pet Pantry was converted into a more modern shopping experience and a new business model was born. The success of the reformatted business paved the way for additional locations. Today these locations include Rye, Larchmont, and Scarsdale in Westchester County (New York) and New Canaan, Wilton, Riverside, and Fairfield in Fairfield County (Connecticut).
Six out of the seven locations (Scarsdale, Rye, Riverside, Wilton, New Canaan, and Fairfield) have self-serve dog washrooms, and host "Clean your Paws for a Cause" fundraisers with local entities. Pet Pantry also feeds local K-9 Units free of charge in Fairfield and Westchester County and sponsors New Canaan Dog Days, Fairfield Dog Days (new), Puttin' on the Dog, and Howl & Prowl. For more information and for online ordering please visit Pet Pantry online (pppwpet.com). Follow on Instagram: @PPWPet #PPWPet