One of the most intense competitors in the history of New Canaan High School athletics, Mario Lopez was a two-sport star for the Rams. The 1984 grad was a captain in both baseball and football in his senior year.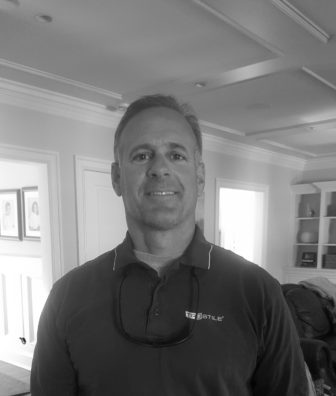 Lopez was an inside linebacker for the Rams in head coach Lou Marinelli's earliest seasons. Mentored by assistant coaches Joe Ditolla and Bo Hickey, Lopez earned three Varsity letters from 1981 to 1983, emerging as New Canaan's top tackler and earning a reputation as one of the FCIAC's hardest hitters.
"Mario really set the tone for our team," Marinelli told New Canaanite.com. "He was so emotional and so intense, one of the most intense players I've ever had. When he played he reminded me of a bull when he had a red flag in front of him. Yet when you sit down and talk to him, he's the nicest guy in the world, a guy who'd give you the shirt off his back. He'd do anything for you if he was your friend."
One of Marinelli's favorite memories of Lopez happened during the 1982 season in a game against rival Darien, a team the Rams had not beaten since 1977.
"We were warming up in our end zone and Darien came jogging out, right through our warmup," Marinelli recalled. "And I couldn't understand a word Mario was saying but he was so angry, he had laser vision. And we went out there and beat Darien, for the first time in a long time."
The Rams went on to win the Class L-2 State Championship that season, defeating Naugatuck 20-12. It was New Canaan's first state title since 1971 and the first of eleven rings for Marinelli.
The Rams would beat Darien again in Lopez's senior year, a year in which he earned All-FCIAC defensive honors.
Lopez's success and toughness carried over to the baseball diamond, where he played catcher for several successful Rams teams in his four years of Varsity play.
After graduation, Lopez attended Springfield College where he played football as a freshman and baseball as a senior-year walk-on. That season Lopez earned a starting spot in the Spirit's lineup and led the team in home runs and RBI.
Lopez has continued to stay active in local sports, playing baseball for the New Canaan Cannons in Men's Senior Baseball League and coaching youth baseball and softball.
Lopez is also a HOBI award-winning business owner of ML Builders for more than 25 years. Married for more than 18 years, Lopez resides in New Canaan with his wife Carmella and three children, Zach, Natalie and Chloe, each of whom are multi-sport athletes.
Last season as a sophomore, Zach Lopez played varsity football for the Rams, thus becoming the first son of one of Lou Marinelli's former athletes to also play for the legendary coach.
The New Canaan Alumni Athletic Association/New Canaan Old Timers Association will hold its annual picnic on Sunday, September 18 at Waveny House.
This year's event will feature eight honorees: Bill Brown, Kara Devlin Yonker, Paul Devlin, Cari Hills, Mario Lopez, Jeff Mellick, Bob Schott and Andy Towers.
The celebration runs from 10 a.m. to 3 p.m. and includes a continental breakfast, beverages and lunch. The cost is $50 for adults, $20 for students. Children under 14 are admitted for free.
Checks may be made payable to New Canaan Old Timers and mailed to P.O. Box 1642, New Canaan, CT 06840. Tickets also available at the door.
Proceeds from the event go toward the Vin Iovino Scholarship, named for the former NCHS athletic director and presented to selected senior athletes at the annual sports picnic and award ceremony held at the end of every school year.