New Canaan Rams football star Zach Allen has committed to Northwestern University, the standout athlete confirmed with NewCanaanite.com.
Allen, who will captain the Rams in his senior year, told NewCanaanite.com that the "balance of academics and football" was the main factor in his choosing the prestigious Evanston, IL-based school.
The 6'6″, 243-lb. DE/LB, had a monster junior season for the FCIAC and Class L State champs with 81 tackles and a team-high 11.5 sacks. Allen's 19.5 career sacks have him currently tied with Connor Buck for the most in NCHS history. He also had the penchant for performing his best when it mattered the most, with unbelievable defensive touchdowns in both the Turkey Bowl and state championship games.
Allen's combination of size and speed had him on the radar of many Division 1 schools including Boston College, UConn, Duke, Syracuse, Rutgers, Pittsburgh, Cornell and UMass.
Allen earlier had announced his decision on Facebook, saying: "I am honored and excited to say that I am now part of the Northwestern University family."
The Wildcats are a national powerhouse in the Big 10 conference. Head coach Pat Fitzgerald's squad was ranked #22 coming into the 2013 season, but ultimately finished at 5-7 , failing to make a bowl game for the first time since 2007.
New Canaan head coach Lou Marinelli said: "He had a lot of choices and he's been around and he's seen an awful lot of what's available. The family feels comfortable and it seems like a nice fit … a great education and that brand of Big 10 football. It has everything he wants."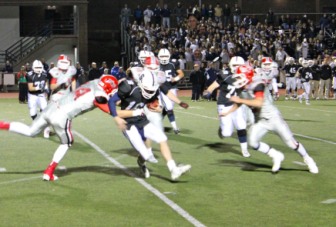 "I'm truly blessed to be given another four years to play my favorite game and to do it at a great institution like Northwestern and in a league like the Big 10," Allen said. "It's a dream come true."