Local news website NewCanaanite.com this week surpassed 2,000 subscribers to its daily newsletter.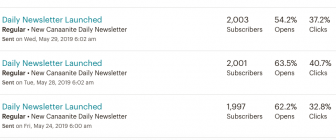 The milestone comes just a few months after the New Canaanite hit the 5-year mark.
According to Mailchimp, the average open and click-thru rates for newsletters in the field of Media & Publishing are 17.6% and 3.9%, respectively.
The New Canaanite daily newsletter's open and click-thru rates are 65.3% and 31.4%, respectively.
The free newsletter is sent via email at 6 a.m. weekdays. Subscription rates rose sharply in January 2019. Readers can sign up here.
Traffic on the site is up 16.2% so far in 2019. Tuesday was NewCanaanite.com's highest-ever single traffic day with 14,000 pageviews, due mainly to breaking coverage of the missing woman case, then Wednesday shattered that mark with more than 28,000 pageviews.
Launched Jan. 31, 2014 by New Canaan High School graduate Michael Dinan, NewCanaanite.com covers quality-of-life matters for residents, including public safety, traffic, parking, pets and wildlife, local history, profiles, parks, land use and the downtown.
The site is supported entirely by local advertisers. Their testimonials can be found here.