I believe our community has enjoyed tremendous success in recent years.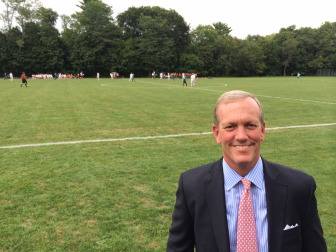 This year we were ranked as the #1 town in Connecticut to raise a family by the highly regarded Niche.com. Our schools are well-funded and have an outstanding administration and staff, and its unquestioned excellence benefits all of our citizens. Our emergency services are second to none. Our infrastructure is improving every year. Our parks are magnificent, and our downtown village is the envy of Connecticut.
All of this did not happen by accident. Only through solid leadership and sound government practices has this been achieved. This leadership has been the result of the Mallozzi-Williams team, working cooperatively, effectively—and respectfully—with Democratic Selectman Jones in recent years. A Republican caucus is coming on July 18th to decide whether this team or another group will work for the citizens of New Canaan. It is my sincere hope that the voters of New Canaan stick with the "Rob and Nick" team rather than any alternative ticket. Experience truly does matter.
On a personal level, it has been an honor and a privilege to serve the wonderful people of New Canaan during the many years I have lived here. In that time I have served as the chairman of our Board of Education, as a three-term selectman, and as a volunteer in our community in so many other capacities, from working as the general counsel of our High School Scholarship Fund, to being a trustee and general counsel of our family's church, to coaching youth soccer and flag football for well over a decade. I am deeply thankful for those opportunities.
Our first selectman and I have additional business in town to complete and I know I speak for Rob when I say that we look forward to serving you for another two years. I can assure our citizens that when we take on an assignment – we stay the course until the job is finished.
Nick Williams
Selectman