The New Canaan Fire Department and New Canaan Fire Company No. 1 are joining forces to raise money for the National Breast Cancer Foundation ahead of October as Breast Cancer Awareness Month. 
The local agencies are selling T-shirts at an online store through midnight Thursday ($25 for youth tees, $28 for adults), according to volunteer firefighter Silvana Cardona.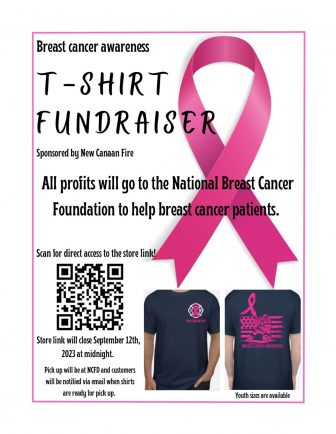 Cardona's great-aunt passed away from breast cancer two years ago "so it definitely hits home for me," she told NewCanaanite.com.
"Breast cancer awareness and fundraising is something that I strive to do," Cardona said.
The Fire Department also might purchase additional shirts to sell at the Main Street firehouse throughout October, she added. 
Referring to the online store raising money for the national breast cancer organization—which itself provides resources and support to those facing the disease—Cardona said, "This is our first step in regards to doing something that's separate from firefighting generally. It's a great way to get community involvement and also fundraise for a great cause."
Cardona joined the fire company in January, realizing a lifelong goal.
"I've always wanted to be a volunteer firefighter," she said. "And back when I was in high school, I kept on putting it off. I grew up in Stamford, and I was a little nervous going into the Stamford departments just because it's so big. But when I had the opportunity to join New Canaan, I was very thankful because it's a combination [volunteer and career] department and I've been able to learn so much from the career staff and the volunteers as well."
A nurse in her day job, she added that drills and meetings are a major commitment, as well as classes.
 "I completed my Fire 1 [Certification]," Cardona said. "It's a great way to give back to the community in a different way."
The T-shirts from New Canaan firefighters can be found in the online store here. Those interested in learning more about the volunteer fire service should email recruits@newcanaanfire.com.