---
Every year, the New Canaan Rams football team faces the same question: How will you replace last year's graduates?
And every year, the answer remains the same: Next man up.
Few would disagree that elements of last season's state championship team are irreplaceable—most notably All-State receiver Alex LaPolice and CT Gatorade Defensive Player of the Year Zach Allen. Both figure to be immediate-impact players at their respective post-NCHS, Division I programs, with Allen at Boston College and LaPolice at Harvard.
That said, New Canaan head coach Lou Marinelli has the luxury of benefitting from his own creation—a factory-like feeder program in a football-crazy town, which can make even the biggest shoes seem fillable.
"We have a lot of kids out, I think 88 or 89 in grades 10 through 12," Marinelli told NewCanaanite.com. "The program is strong and the philosophy remains the same. We have some tough games. The schedule has changed, so we're going to see. That's the fun part of football. Every year it's a new team with new chemistry."
Most of the new chemistry will be formulated on the defensive side of the ball, as New Canaan lost eight of 11 starters to graduation. In addition to Allen and LaPolice—who, in addition to his receiving skills, was also a shutdown cornerback—the Rams will look to replace linebackers Teddy Dumbauld and Peter Benko, nose guard Malaki Holan and defensive backs Michael Kraus and Sterling O'Hara, all of whom made key contributions to New Canaan's 2014 Class L-Large title run. To complicate matters, senior co-captain Cass Knox (96 tackles, 3.5 sacks in 2014) suffered an ACL injury at a summer camp, sidelining the linebacker for a substantial portion of the season.
New Canaan does have several returning defensive players who saw significant minutes last season, including linebacker David Strupp (86 tackles, 4 sacks) and senior co-captain Michael Cognetta (95 tackles, 5 interceptions) at safety. Joining Mike Cognetta in the defensive backfield will be seniors Jarrett Torromeo and Matt Cognetta. Junior Tommy Root also figures to get a role, as well as versatile senior Kyle Smith, who can play inside or outside linebacker as well as safety.
The defensive line will feature 6'6" senior Sam Larson and seniors John Hetherington, Will Arliss and Tom Williams. Sophomores Charlie Hane and Grant Morse have been impressive this preseason and also figure to get into the mix.
"I think we have our hands full trying to piece together a defense," Marinelli said. "We'll use our first few scrimmages to piece things together to find out who we have and what we have."
One strength New Canaan has defensively is returning coordinator Chris Silvestri, one of the best assistant coaches in the state. Silvestri is confident that his squad will be up to the challenge in 2015, especially given the experience of the defensive line.
"The silver side of that cloud is that at the 'T-N-T' (tackle, nose guard, tackle) position, it's a substitute position so we lost three, but in reality eight played last year so we're getting five back," Silvestri said. "We're just looking for some of these guys to step up their time and grow on last year's experience."
New Canaan has far fewer question marks on offense, despite the losses of LaPolice, Kraus and running back Frank Cognetta. Senior co-captain Michael Collins (154-283, 2624 yards, 32 TD's, 8 INT's) returns under center for New Canaan, providing the Rams with some much-needed experience and confidence that should translate into plenty of points in 2015.
"He's gotten bigger and stronger," Marinelli said of Collins, who recently committed to play college football at Penn. "He's worked hard. He went to the Alabama camp, the Auburn camp, and he went there just to see what he could learn and pick up to get better. He wants to be good, and I think he's one of the best that we've had."
Kyle Smith (31 receptions, 722 yards, 10 TD's) returns as a starting receiver for the third straight year. At 6'3" and 222 lbs., Smith has a combination of size, strength and speed that New Canaan hasn't seen since former great and 2011 NCHS grad Kevin Macari starred for the Rams. Ironically, Macari—a 2015 grad of the University of Delaware—has returned to the Rams as an assistant coach this season.
With Smith figuring to get a majority of attention from opposing defensive secondaries, newly promoted Rams offensive coordinator Dante Correnty hopes to get secondary and tertiary options out of a group of roughly 16 candidates, including seniors Tommy Root, Andrew DeFranco, Andrew Jahns, Adam Ruth and junior Ryan O'Connell. Senior placekicker Peter Swindell might also get some looks at wideout.
A big strength—literally—for New Canaan is the offensive line, led by 6'6", 295-lb. senior tackle Lucas Niang, one of the state's most highly recruited players in the class of 2016. Marinelli hopes to have 2014 starter Gardner Read back at center, though the senior co-captain is nursing an injury and his return is currently unclear. Joining Niang will be junior Will Conley and a combination of juniors Teddy Hood and senior Jake O'Neill.
Senior Matt Cognetta (53 rushes, 319 yards, 3 TD's) will handle the majority of New Canaan's running duties in 2015. Cognetta filled in admirably while older brother Frank was injured in the early part of last season, displaying a hard-nosed running style and an uncanny ability to catch the ball out of the backfield. Twin brother Michael may also get some carries this year.
New Canaan's kicking game will be a strength again this season as senior Peter Swindell looks to add to his already impressive career totals. After missing the first few games of last year with a leg injury, Swindell enters this season healthy and should serve as a reliable scoring weapon from long-distance. Junior Jack Hoelzer was impressive filling in last season and will provide the Rams with some valuable insurance.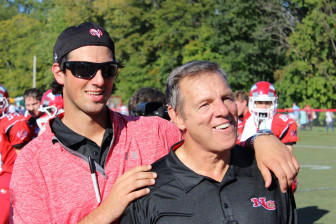 An additional storyline for New Canaan in 2015 won't necessarily happen on the field, but on the sidelines. Former Rams offensive coordinator John Marinelli left his father's side to take over the reins at Greenwich High School, setting up a marquee matchup between New Canaan and the Cardinals at Greenwich's homecoming on Saturday, Oct. 24. Despite the obvious interest in the father-son showdown, Lou Marinelli—as is his character—deflects the attention away from him and toward the playing field.
"I hope that doesn't overshadow what I hope is going to be a great football game with two good football teams," Marinelli said. "The only thing I can guarantee is that a Marinelli is going to win, and there will be no winners in the Marinelli household no matter who wins. Hopefully it brings out the best in Connecticut high school football."
New Canaan Rams Football
Head Coach: Lou Marinelli (35th year, 289-91-6 as NC head coach).
2014 Record: 11-1, Class L-Large State Champions.
Key Returnees: QB Mike Collins, DB Michael Cognetta, WR Kyle Smith, RB Matt Cognetta, OL Lucas Niang, LB David Strupp, PK Peter Swindell, OL Will Conley, LB Cass Knox (injured), C Gardner Read (injured).
Key Losses: DL/LB Zach Allen, WR/DB Alex LaPolice, WR/DB Michael Kraus, RB Frank Cognetta, LB Teddy Dumbauld, LB Peter Benko, DB/WR Sterling O'Hara, DL Malaki Holan.
Key games: 9/18 @ Ridgefield; 10/24 @ Greenwich; 11/6 vs. Trumbull;  11/26 @ Darien.