Scores of New Canaanites joined students of architecture and fans of the Midcentury Modern style at The Glass House on Saturday for the annual Summer Party, a fundraiser for the National Trust for Historic Preservation site. Sipping Taittinger champagne and bringing picnic baskets prepared by Campagna and The Bedford Post Inn, attendees roamed the 49-acre property on a bright, sunny day, entering buildings that include not just the famous Glass House but also Da Monsta and Philip Johnson's painting gallery and library. Others lounged by a pond down the back of the property or by the pool near the main house. See photos above.
***
A woman who hurt herself after falling on the sidewalk in front of Dunkin Donuts on Elm Street in January has filed a letter of intent to sue New Canaan, according to a notice filed with the town. It happened at about 2:30 p.m. on Jan 12 at what the woman's New Canaan-based lawyer is calling "a dangerous and unsafe pedestrian sidewalk which was improperly repaired, maintained, cleared of snow, sleet and/or ice and/or improperly treated with salt, sand or the like." The woman hurt her "right fingers, right hand, right wrist, right arm, right elbow, right shoulder, neck back and buttocks," according to the Notice of Intention to Commence Action Against Municipality.
L-R: Kathy Bishop, Jack Davis, Megan Brunner and Lyssy Hughes. Contributed
***
We're hearing that South School nurse Kathy Bishop received an award from the Juvenile Diabetes Research Foundation. The JDRF named her Best Elementary School Nurse—congratulations to Kathy, South School and the district!
***
The hopeful developer of the Post Office on Locust Avenue paid $275,000 for a 3,000-square-foot sliver of land that will afford an additional eight or nine parking spaces on the site, according to a property transfer filed with the Town Clerk's office last week.
***
We heard from Tree Warden Bruce Pauley that his profession was in his blood: A great-uncle he never met, Charlie, owned a tree care business in New Canaan in the 1930s and 1940s. Flipping through a 1938 New Canaan Directory recently, we came across a listing for the man himself: "Pauley, Charles V (Helen J), tree warden and tree surgeon, North Wilton Road n Laurel Road."
***
A Church Street family with four kids found a bat inside their house last week. It's been sent to a state lab for rabies testing. Also last week (both incidents occurred on June 9), officials say, a sick fox spotted on Clearview Lane was put down. The animal had no contact with people or domestic pets, according to Animal Control.
***
Here's a nice moment from South School 2015 graduation. Four kids in the same 4th grade homeroom have dads from the NCHS Class of 1991:
***
We're hearing that kudos are owed to the New Canaan Baseball 12U All-Stars on their success in the Cal Ripken District 1 Tournament: The boys are 3–0 and have advanced to the championship game which will be played on at 5:30 p.m. this Thursday at Saxe Field. In their first game, the New Canaan players beat Stratford 14-2. Zack Ramppen hit two homers and drove in three runs, and Nick Visconsi went 2-for-4 at the plate with three RBIs. Pitchers Jack Ellis and Jack Lisecky led the team to a 10-0 win over Milford in Game 2. Ellis pitched four scoreless innings and gave up only one hit. Greenwich fell to New Canaan 8-4 in Game 3. Ryan Higgins pitched a complete game giving up only two earned runs and striking out 11 batters.
***
Here's a 'Welcome to New Canaan' for Robert, a 2-year-old Labrador/golden retriever mix from Canine Companions for Independence, a nonprofit organization that provides assistance dogs for children and adults with disabilities. We're told that Robert has been placed locally based child psychologist Dr. Nancie Spector. The dog knows more than 50 commands, and can turn light switches on and off, open and close doors and retrieve dropped objects. One of his most important jobs will be to assist Dr. Spector as she treats children with autism and other psychological disorders.
***
We're hearing that New Canaan High School senior Kane Curtin is enjoying his time with HTG Investments Advisors in New Canaan. "I've been able to enhance my Excel skills and learn new skills through the work I've been doing. It's a great experience for me to get a taste of the business world," Curtin said. He's been working weekdays from 9 a.m. to 2 p.m. through the increasingly popular NCHS Senior Internship Program, which wraps up on Wednesday with graduation scheduled for Thursday.
***
Congratulations to New Canaan's Parker Nelson, a sophomore on the men's rowing team at Bates College, for receiving a New England Small College Athletic Conference All-Academic selection for the spring 2015 season. To receive NESCAC All-Academic honors, a student-athlete must have reached sophomore academic standing and be a varsity letter winner with a cumulative grade point average of at least 3.35. Nelson is a 2012 graduate of the St. Albans School. He majors in English at Bates.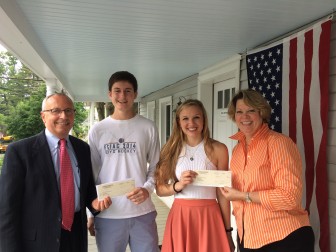 ***
Two local high school students, Ted O'Rourke and Katherine Luciano, received the 2015 Raymond F. Gates, Jr. Memorial Scholarship from the Connecticut Realtors—an honor named for Gates following his death in a car accident. Just 43 kids statewide received scholarships (totaling $37,000) out of more than 120 applications received, the New Canaan Board of Realtors announced.
***
Congratulations to New Canaan's William Karl on making the Dean's List for the spring semester at Bryant University in Smithfield, R.I.
***
State Reps. Gail Lavielle (R-143) and Tom O'Dea (R-125) and state Sen. Toni Boucher (R-26) will hold a "Legislative Recap" in Wilton hosted by the Cannon Grange. The legislators will offer residents an update on the legislative session, and answer their questions about state issues. The "Recap" will be held from 6:30 to 8:30 p.m. on Thursday, June 18 at the Cannon Grange hall, located at 25 Cannon Road, Wilton.
***
We're hearing that dozens of dogs attended the 6th Annual New Canaan Dog Days at Pet Pantry Warehouse on Sunday. Weruva was the presenting sponsor and Artemis was the event sponsor—with both providing gifts to "Best in Show" contest winners. As it had when the event was held on Cherry Street, Dog Days featured a cool down area with mini swimming pool, water dishes and water hose kept attendees from overheating.
Dog owners were able to speak with professional trainers and veterinarians while discovering the best products and services on the market. Pet Pantry Warehouse collected "Dog Donations" and gave out hot dogs, water and soda with suggested donation of $2, also 10 percent of sales on Sunday will benefit Adopt-a-Dog and New Canaan-based Strays & Others.