New Canaan Animal Control Officer Allyson Halm last week fielded a call on Buttery Road about an injured hawk in a pool.
At about 1:21 p.m. on Sept. 21, Halm, now head of the NCPD Animal Control section, responded to the call and found that the bird had perished. Halm also noticed that the bird was actually a kestrel, or small falcon sometimes called a "sparrow hawk," and contacted an area museum that typically wants (as in this case) the carcass for taxidermy. The bird species is said to be declining in numbers in New England.
***
The Planning & Zoning Commission on Tuesday voted to extend by one year a moratorium on medical marijuana dispensaries in New Canaan.
***
The New Canaan Basketball Association has released tryout dates for the 2015/16 New Canaan travel basketball season. They start Oct. 12—see more details and the full schedule, and register online at NCBAhoops.org.
***
The New Canaan Police Department and People's United Bank are hosting a free "Yellow Dot Day" at 10 a.m. on Oct. 7 at Lapham Community Center. The bank created the program to help save the lives of seniors during automobile emergencies—more information here.
***
Former Rams QB Nick Cascione (NCHS Class of 2014) is now starting QB for Union College. In his debut last weekend against St. Lawrence, Cascione was 10 for 22 passing with 288 yards and three touchdowns. He also ran 16 times for 54 yards. Noteworthy, too, that Cascione's predecessor at QB, Matt Milano, was named NESCAC Offensive Player of the Week for Middlebury College. Milano completed 23 of 34 passes for 337 yards and 3 TD's in Middlebury's 28-25 win over Wesleyan on Saturday, Sept. 28.
***
Congratulations to New Canaan resident and Juilliard bassoonist Harrison Miller, who won The Juilliard School's Concerto Competition and performed with the Juilliard Orchestra on Sept. 25. Miller had been featured in Business Insider's "The Twenty-Five Most Impressive High School Graduates of 2013," and is in the third year of his undergraduate studies at Juilliard with Judith LeClair. He is the recipient of a Kovner Fellowship.
***
We heard from Lorenzo Colella at Joe's Pizza that scores of New Canaanites showed up to Waveny on Sunday evening to view the "blood moon."
***
Planning & Zoning Commissioner Dick Ward at the group's meeting Tuesday spoke out against a resident who he said had made statements attacking an employee of the town in the Land Use Department. "I find [the statements] to be unpleasant, unacceptable and tantamount to defamation, and the individual should be really more careful because it was completely irresponsible," Ward said at the meeting, held in Town Hall. "The accusations tend to be on discrimination, conflict of interest and improper selection of a subcontractor. There is really no factual support for any of these accusations or implications, and I think they are completely erroneous."
***
Jim Berry of Mackenzie's has a hard time getting around the block with golden retriever puppy Tahoe, he gets stopped so often in a downtown loop. Visitors to the shop on South Avenue will know that Tahoe, just five months old, as the business's official greeter and mascot.
***
Heather Gaudio Fine Art from 4 to 7 p.m. on Oct. 3 will hold an opening reception in the gallery's new space at South and Elm, for the exhibition "New Arrangements: Contemporary Reimagined." The all–women show will run through Dec. 30 and includes works by Jaq Belcher, Cassandria Blackmore, Ann Gardner, Madeleine Keesing and Jae Ko.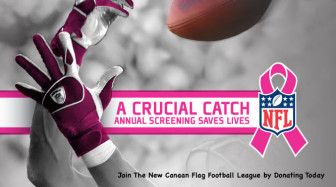 ***
October is Breast Cancer Awareness Month, and New Canaan Flag Football League is launching a new campaign, "A Crucial Catch," together with the American Cancer Society and NFL. It's focused on the importance of regular breast cancer screenings. Starting Saturday, more than 200 New Canaan Flag Football players show support by wearing pink items generously donated by the NFL.
***
The New Canaan High School Theatre Program will kick off the 2015/2016 season with a heart-warming production of "The Orphan Train," written by Aurand Harris. Performances will be held at 7 p.m. Oct 22 to 24. Tickets are $15 and currently available here online. Major roles are portrayed by the talented students of the NCHS Theatre Program: "Evie" played by Kate Callahan, "spunky Pegeen" played by Jenny Daly, "Frank" played by Margot Weiss, "Annie" played by Allison Demers, "the quiet Mary" played by Maria Oliveira, as well as "song-and-dance man" Danny played by Jacob Freedgood, the pickpocket Lucky played by Nick Ranieri, and Raymond played by Berlin Charles. Additionally, "little Lucy" played by Chloe Mendoza, a 7th grader at Saxe Middle School.
NCHS Theatre kicked off the 2015-16 season on Sept. 19 with a successful car wash fundraiser. All drama students worked in shifts to scrub and wash cars along with keeping up with the regular Saturday routine of working on sets, props and costumes. Vehicles washed included a Maserati and a boat. The funds will help offset costs for the upcoming season.
***
Elm Street's design solutions this Saturday will welcome the founders of LuRu Home for a trunk show of hand-dyed pillows and fabrics. LuRu Home creates collections of pillows, table linens, accessories and fabrics by the yard.
***
Bankwell in New Canaan is hosting an exhibit of paintings by local artist Vera Rahn at the Bank's Elm Street branch through November. The public is invited to view the exhibit from 9 a.m. to 5 p.m. weekdays or 9 a.m. to noon on Saturdays. Ms. Rahn grew up in an artistic family in The Hague, Holland. Her grandfather was a well-known painter of The Hague School and her mother was a recognized portrait painter. Ms Rahn studied sumi painting in Tokyo and portrait painting at the London Academy of Art. In 1993, she studied landscape painting in Nova Scotia and subsequently painted at the Silvermine School of Art in New Canaan and the Rowayton Art Center. As a member of the Rowayton Art Center, she has won 23 prizes, including "Best in Show" as well as numerous honorable mentions.
***
The Newcomers Club of New Canaan on Dec. 4 and 5 will present its biennial "Homes for the Holidays" House Tour. The 40-year-old tradition features five homes decorated by professionals, and it raises funds for local organizations such as Getabout and New Canaan Library. More information is available here.
***
The New Canaan P.E.O. Chapter N recently presented two Program for Continuing Education grants, to Kristin Santella, a nursing student at Rutgers University, and Allison Murphy, who is working on her Masters of Library Science at San Jose State University. In 50 years, New Canaan P.E.O. Chapter N has raised more than $185,000 for PEO projects through fundraising efforts within the Chapter. The P.E.O. Sisterhood, founded January 21, 1869, at Iowa Wesleyan College, Mount Pleasant, Iowa, is a philanthropic and educational organization interested in bringing to women increased opportunities for higher education. The Program for Continuing Education grant awarded to Kristin and Allison is one of six P.E.O. philanthropic projects.
The project provides grants of up to $3,000 to women who have found it necessary to return to school and who are within two years of attaining their degree. Candidates need not be residents of New Canaan, but are required to have U.S. citizenship, and be with 24 months of completing their education. More information about these projects is available here under "Projects / Philanthropies." P.E.O. Chapter N of New Canaan invites anyone interested in pursuing opportunities to call Chapter President Joan Starr at 203-762-7423, or Program for Continuing Education Chairman Laura Dijs at 203-972-6024.