Sara and David Koch had lived in New Canaan since 2000—starting a family and raising four kids here—when, two years ago last fall, they began discussing an idea for a new type of gym with friend and fellow town resident Rich Fedeli.
The industry had seen a trend toward boutique fitness facilities—in fact, Sara Koch had met Fedeli's wife at a barre studio here—and they saw New Canaanites doing just what they did: traveling out of town to find a single, full-service location.
"We all had done different things for fitness since we moved here, either in town or out of town, and the trend that we all saw happening was that people were leaving New Canaan every day to go work out," Sara recalled on a recent morning from the office at Oxygen Fitness as a steady stream of members moved about the Pine Street entrance just outside her doorway. "So in order to go to a full-service fitness facility, they were going to Equinox in Darien or Intensity in Norwalk. People were traveling all over and there was no great option or place here in town to get a little bit of everything under one roof."
They spent about 18 months planning the business, finding the 22 Pine St. space (formerly home to a cleaners and shoe repairman shop), obtaining a special permit from the town to use the approximately 10,000-square-foot space as a fitness facility and—turning to New Canaan-based design firm Brooks & Falotico and town resident Andy Ashforth's building company, Ashforth Realty—created Oxygen Fitness and brought on staff, trainers and instructors.
This month, on May 28, Oxygen Fitness will mark its first birthday. It's a milestone for a wholly local, independent business that trainers, instructors and especially members—more than 85 percent of whom are New Canaanites, about two-thirds of them women—credit with standing out for its warmth, professional know-how and support, in some cases even changing their lives.
New Canaan resident Bob Franz joined Oxygen just a few days after it opened last summer, having tried five or 10 gyms through the prior decade, and his college pals and co-workers (he's a trader in New York City) ragged on him, saying Franz wouldn't be able to stick it with a fitness program this time, either.
"When I joined I couldn't do one push-up and couldn't run to the end of my driveway," Franz recalled. "I had just turned 40 and I had gone for a checkup and there were all sorts of red flags at the doctor's office, and so I said, 'You know what? I heard about this new place.'  And my wife joined alongside me."
That was less than one year ago. Franz recently raced in an 11.5-mile run and is a pre-dawn, pre-work 5:15 a.m. regular at Oxygen. Classes range from barre and yoga, to boxing and kickboxing, bootcam, spinning, agility, spring interval training, flexibility, Jui-Jitsu and TRX.
Two other spots in New Canaan offer a variety of classes, as well—the YMCA and a fitness center off of nearby Grove Street, 360 Fitness.
For Franz, a major motivator—and, in his experience, differentiator at Oxygen—are what he calls "the best and nicest instructors you could possibly imagine."
"I remember the instructor, the first time I walked out after a class where I really was struggling, he said, 'Hey, I'm glad to see you here and I'd love to see you back here tomorrow.' Then I went back the next day and the next day beyond, and it builds in a way, with them supporting you … It's such a great addition to New Canaan."
The trio behind Oxygen (Dave had come up with the name)—Dave and Sara Koch are owners and Fedeli is their partner—had hand-picked their trainers and instructors based on their own experiences as clients at different boutique outfits, and many of those same individuals (mostly contracted workers) have been with the Pine Street fitness facility since its inception.
One trainer-and-instructor, Donovan Green, described Oxygen as "a family-oriented place."
"When you go to most gyms, there's a lot of judgments about who is doing great, who's not doing a great job," he said on a recent morning after running an entire class where members used a chair to work out (see video directly below). "Here it doesn't matter if you're overweight, underweight, if you're fit, a fitness fanatic or buff or somebody who is a couch potato. It doesn't matter. We have classes for everybody."
And the people who take those classes are retained by Oxygen at a high rate—"and that's a testament to what we offer here," said Fedeli, a father of two girls (at West and Saxe) who has lived in New Canaan for 10 years, hails from Stamford (he graduated with Stamford Catholic's last class in 1990) and owns a printing business.
"It's very gratifying, the feedback we get from our members, it really is," Fedeli said. "Everybody comes out, 'That was a great class, we really appreciate what you put here.' "
That sums up Allison Wolter's experience at Oxygen. A 1993 New Canaan High School graduate who is raising four kids here (a Saxe fifth-grader, West School fourth-grader and then two kids not yet in kindergarten), Wolters said she'd sampled classes at many different types of gyms before finding Oxygen.
"They are always looking for feedback and changing and improving things," Wolter said. "I have to say, too, that at no other gym could you walk in at 9:30 every day of the week and have three different class options. You could literally walk in and say what do I want to do, I have no idea. It could be yoga, bootcamp or spinning."
She added with a laugh: "And I never do spinning, by the way. I just never liked it."
Wolter, a pre-K rep to nonprofit New Canaan CARES who also volunteers with Community Bible Study in town, said it was time-consuming and expensive to get to multiple boutique facilities, paying on a per-class basis, as opposed to using just one gym. She described Oxygen (where she's used the babysitting services, offered 8 a.m. to 12 p.m., seven days a week, and where her kids have taken their own fitness classes in boxing) as small, upbeat and fun.
"You kind of know everybody. It sounds cheesy but it's true, it's almost like a little family," she said.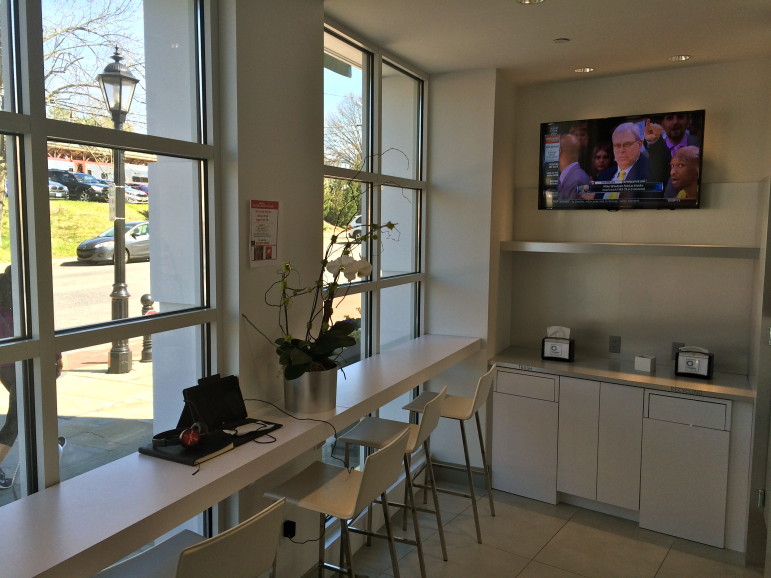 Sara Koch—a former Young Women's League of New Canaan member whose husband is on the board of youth football in town, and also coaches both baseball and football—said the gym's sense of family extends to the larger community.
A member of the New Canaan Chamber of Commerce, Oxygen Fitness sponsors several events in town, including at New Canaan Library and the New Canaan New Balance Annual All Out for Autism 5K Walk/Run. Oxygen instructors also volunteer their time to work with the New Canaan Chapter of the National Charity League.
"They are great contributors to the community in so many ways," chamber Executive Director Tucker Murphy said of Oxygen Fitness. "They understand how to give back."
Asked whether launching a business in New Canaan has opened her eyes to different sides of the town where she's lived for all this time, Sara Koch said: "I like how the business owners in town really work together. I think that's something I've noticed, everyone kind of knows each other, everyone wants to partner up, it's 'How can we help you? How can we do something together? We've worked with elm on a couple of different things. I think it's really nice in a community like this."
And Oxygen fits well in that community as the type of standalone, independent business that New Canaanites support and protect—a quality that the fitness facility embraces in its own philosophy.
"We want members to feel that they're in a club, so that it's more of a personal experience," Sara Koch said.