As a young child in New Canaan after WWII, I had the privilege of living in the Justus Hoyt House on Main Street, where my mother and grandfather had been born, as well as generations of Hoyts dating back to 1770. The house stood directly opposite New Canaan Library.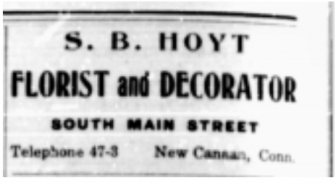 A bonus of living there was that my grandfather's flower shop and greenhouses—S.B. Hoyt Florists Est.1908—was next door. My grandparents, Stephen and Anna Hoyt, lived on a property adjoining ours that fronted on East Maple Street. I had aunts and uncles and cousins up and down East Maple Street and Hoyt Street.
One of the perks of being frequently in my grandfather's orbit, is that when he made trips to the New Canaan Bird Sanctuary and Wildwood Preserve he would often invite me along. The Preserve was both a sanctuary and a mission to "Grampy Hoyt" who, as president of the Bird Protective Society of New Canaan, had solicited the funds from Mrs. Barend van Gerbig and other concerned citizens to purchase and fence the 16.8-acre property in 1923.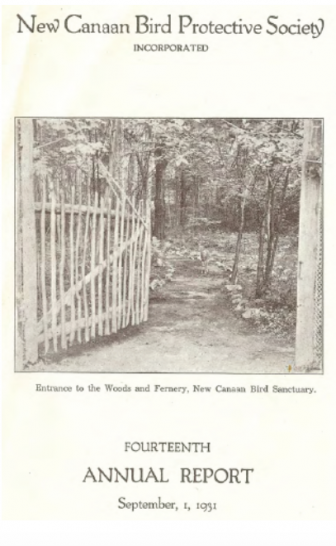 Once through the entrance gate to this haven, my grandfather would engage in conversation with Clinton Bartow, the caretaker, leaving me to explore. Being all of five years old, I kept within Grampy's sight, but even so, that world of streams and bridges and a fish pond and ducks who awaited the bread I had brought enchanted me.
Besides feeding the ducks, my favorite pastime was collecting a handful of sticks and, standing on one of the wooden bridges, dropping them one at a time upstream and awaiting them downstream.
When Grampy concluded his business with Mr. Bartow, he would walk with me along the trails. It seemed vast. I grew up being able to identify most any
tree and wildflower and curious to find ones I did not know.
Following Grammy Hoyt's death in 1952, my grandfather had a memorial bench set in the Bird Sanctuary. Anna Hoyt had held several offices with the New Canaan Bird Protective Society and always been a helpmeet to my grandfather. It was fitting that he placed a memorial to the one that he loved in the place that he loved. When I visit the sanctuary now, the sight of this bench takes me back to my childhood.
My grandparents are gone now, the flower shop and greenhouses are gone, the Justus Hoyt house is gone. My love of the quiet pleasures of this earth which the Bird Sanctuary nourished in me as a child lives on.