The new majority in Hartford is in the process of advancing several bills to force school regionalization in order to redistribute resources and remove decision-making from local schools.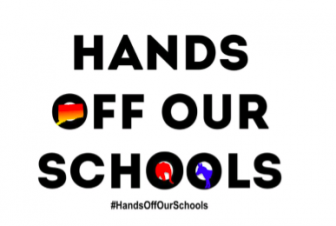 State Rep. Michelle Cook (D-65th) emphasized her view that such legislation should not be voluntary:
"I know that forcing people to do things is not always the right way to go, but sometimes we have to help people get there because they're not going to get there on their own."
One fellow supporter of forced school regionalization mocked grassroots efforts to oppose the bills:
"Over the last four days, we've seen people subject to great distress [laughter] over the idea of regionalizing educational services and I think that is a shame because a lot of communities have benefitted greatly by the structural inequities that are inherent in our system today." — State Rep. Roland Lemar (D-96th), Majority Caucus Chair
One school regionalization bill's sponsor, State Sen. Martin Looney (D-11th), indicated that his bill is the opening gambit in his larger effort to regionalize tax base "sharing." With strong party majorities in both houses, the president pro tempore of the state Senate is well positioned to advance this effort. However, many local leaders have expressed opposition.
"… It looks again that the legislature is looking to use policy as a blunt instrument in the state."  — Dr. Bryan Luizzi, New Canaan Schools Superintendent 
"While New Canaan and Darien share many similarities, the reality is that New Canaan is already facing significant fiscal challenges. New Canaan carries the highest debt per capita in the state—a debt balance that is two times larger than Darien's and carries annual debt service expenses that exceed Darien's by almost 50 percent. Moreover, while Darien's tax base is stable, New Canaan's tax base is facing decline." — John Sini, Jr., Darien Planning & Zoning Commission Chairman
Their voices have been joined by a growing number of concerned families who want to maintain local control of our schools. Over the past week, the group Hands Off Our Schools, which was formed to oppose forced regionalization, has grown by more than 60 percent. 
So why are politicians in Hartford picking on the state's smaller school districts such as New Canaan? Does data indicate that small school districts are the problem? Quite the opposite. The state's best districts—New Canaan, Westport, Darien, Weston, Amity, and Wilton—are all small enough to lose local autonomy under proposed legislation. However, based on their records of academic excellence, they don't need to be taken over—they need to be copied.
In comparison, the large districts favored by Hartford politicians are… terrible. The largest districts in the state such as New Haven, Bridgeport, Hartford, and Waterbury are also some of the worst. They have awful academic outcomes and squander money through a combination of ineptitude and corruption. To say that their political leadership is criminal is not an insult. In many cases it is literally the case. Small district student proficiency in math and reading is far better. In fact, it isn't just better than their students but in some large districts it is better than their teachers.
It is a bizarre reverse form of meritocracy to disrupt New Canaan while maintaining the autonomy of some of the most dysfunctional school districts in the country. For one nearby example, Bridgeport would keep control of a school district that manages to teach kids at a rate of 23 percent proficiency in reading and 10 percent in math. It is not obvious what they spend $400 million on, but it isn't reading, writing or arithmetic. In fairness, not that many dollars reach their classroom (over a third is in "overhead" which is probably the most polite way to describe it). If any district deserves to lose its autonomy, logic would argue for Bridgeport getting taken over and New Canaan left unmolested.
So if Hartford politicians want to improve education, they could start by fixing the failing large districts instead of interfering with what is already working in the best districts. Come after New Canaan to learn what's working, but then leave us alone to educate our kids locally. Who should control New Canaan's schools? New Canaan should. With respect to our neighbors, we don't need to merge with Darien, we don't need to become more like Bridgeport, and we don't need to be dictated to by Hartford.