The Connecticut Agricultural Experiment Station found a West Nile Virus-infected mosquito in New Canaan, state officials said Thursday, in what's called the 'Hoyt Swamp.' That's located up against the Merritt Parkway near Exit 38 (here). No human cases of the virus have been reported in the state this season. Officials say using mosquito repellant and covering up when the insects are most active (dawn and dusk) are simple, effective prevention measures.
***
Pet Pantry Warehouse on Grove Street—host of the annual Dog Days New Canaan—is hiring management and entry-level personnel for its store here in town.
***
The Board of Selectmen this week voted 3-0 to approve the hiring of Nathan Vass Jr. as a welder equipment operator in the Department of Public Works.
***
The owner of an 8,000-square-foot home on Mariomi Road on Thursday filed to evict a tenant that's occupied the dwelling for two years, saying the resident failed to pay the monthly $10,000 rent for August. The nearly 3-acre property is owned by a limited liability company whose principal is a Stamford man, according to state records.
***
New Canaan's Colleen Hann is among those shining a light on the Walk To End Lupus Now, planned for Oct. 15 at Calf Pasture Beach in Norwalk. Organizers are seeking to raise $60,000 to help find a cure for lupus, which affects 1.5 U.S. citizens and 5 million people worldwide. See Colleen's story here and keep an eye on her own fundraising goal.
***
The New Canaan Chamber of Commerce's Annual Golf Outing is scheduled for Monday, Sept. 25 at the Country Club of New Canaan. The outing always draws local community and business leaders, and raises funds to support the Chamber's many and varied events. More info here.
***
The selectmen this week approved 3-0 the extension of interim finance director Sandra Dennies's contract through December. During the meeting, First Selectman Rob Mallozzi said: "By way of background, Sandra continues to do a wonderful job. I got a very nice note from an Audit Committee member, Mr. [John] Lanaway, saying that she is and guiding the audit in the right direction and we plan on having it all ready and on time."
***
ABC of New Canaan is giving a special shout-out Grace Community Church members for overhauling the front lawn of the organization's house on Locust Avenue—and on the hottest Saturday of the summer, no less.
***
The New Canaan Recreation Department will present "Finding Dory" at the 2017 Summer Outdoor Movie Event at Waveny on Friday, August 25th (rain date August 28th).
Admission is free and the community is invited to bring a blanket, chairs and a picnic supper to enjoy the movie on the 26ft inflatable widescreen. The movie begins when the sun goes down (approximately 8 pm). Concession stand proceeds will benefit the Waveny Park Conservancy.
***
Finally, here are some photos from last weekend's New Canaan Emergency Services Demonstration in the Pop Up Park, which featured the New Canaan Fire Department, New Canaan Volunteer Ambulance Corps and Community Emergency Response Team: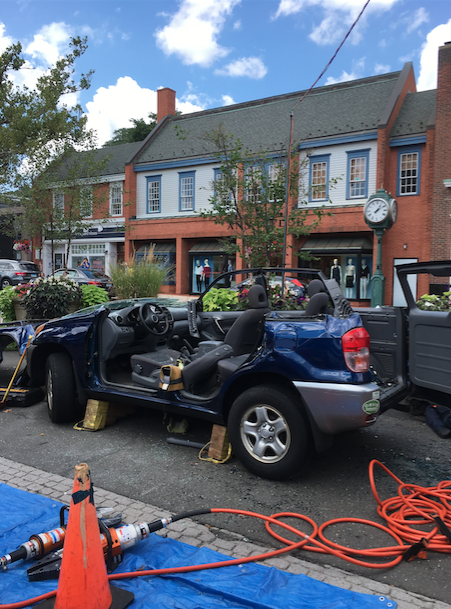 At the Aug. 19, 2017 New Canaan Emergency Services Demonstration in the Pop Up Park, which featured the New Canaan Fire Department, New Canaan Volunteer Ambulance Corps and Community Emergency Response Team. Credit: Elizabeth Oei