Chef Luis Lopez, known locally for his eponymous restaurant on Elm Street, has been seen cooking in the open kitchen at Spiga on Main.
***
After school Wednesday, a man was seen trying to enter cars in a New Canaan High School parking lot, according to a communication from NCHS Principal Bill Egan. "We do not believe he was successful, nor do we anticipate his return," Egan said in an email. "However, please make sure you lock your cars on campus. I would keep them locked before and after school. As you know, theft from cars occurs from time to time and the best defense is to lock your cars. The police have been notified of the incident and will be investigating."
***
At more than $2,000, New Canaanites have the highest average credit card limit, per card, in the state and 16th-highest in the nation, according to a new study. Darien, though its residents have quick access to lots of big box stores along the noisy, heavily trafficked Interstate 95 and Route 1 corridors, is No. 24 (busted).
***
The New Canaan-based ownership company of commercial property at the corner of Cherry Street and East Avenue—listed as 44 East Ave. in town tax records—has moved to evict a business from the second floor. According to a complaint filed Oct. 16, the business moved into a second-floor space in May 2016 and agreed to pay $4,120 in rent, but hasn't paid since May of this year.
***
New Canaan High School's athletic director, Jay Egan, announced Thursday that John Winchester has been named girls' head basketball coach. Winchester has been an assistant boys' basketball coach at NCHS for the past four seasons. "He is very familiar with all aspects of the New Canaan basketball community," Egan said. Winchester distinguished himself during interviews through his "awareness of the importance of finding multiple ways of relating to the players, his commitment to creating a competitive basketball environment and his ideas about cultivating interest in basketball both in our school and in the community," Egan said.
***
Please vote for this video: http://www.tinyurl.com/nclt-vid-2017 Jim Fowler is an advocate of nature and the former host of the Emmy award winning show Wild Kingdom. This is the story of the land Jim has called home, his children grew up on, and his grandchildren love to visit.
The 2-minute video above, by New Canaan High School 2016 graduate Connor deMayo, now a student at Wake Forest, features Jim Fowler talking about the Silvermine Road property that recently was acquired by the New Canaan Land Trust to be preserved as open space. It's been entered into a nationwide contest sponsored by the Land Trust Alliance—you can vote here—and if the film wins, deMayo will designate $10,000 to the New Canaan Land Trust.
***
Police at about 10:30 p.m. on Halloween night cited a pair of Norwalk men, both 21, for possession of marijuana and drug paraphernalia. Police could smell marijuana coming from the car after pulling the pair over on Cedar Lane, where it was traveling at a very slow speed, officials said. The vehicle matched the description of a suspicious car that had been called in earlier the same night on Beacon Hill Road, according to a police report.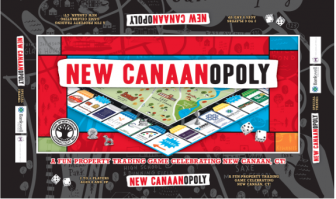 ***
It's here and you can now order it: the entirely new and updated, 10th anniversary edition of New CanaanOpoly. (Read more here.)
***
Special Church at First Presbyterian, launched to serve special needs children in New Canaan, turned 30 in October. On Oct. 22, members of Special Church, their families and volunteers joined First Presbyterian's congregation to mark the anniversary, singing for the congregation and serving as lay readers during a service. From church officials: "The Rev. Paul Gilmore, Pastor of FPC, describes Special Church as a place of grace. He stated that grace abounds every Thursday when the Special Church members arrive with their loving joyful spirits. Leader Nancy Reichart shared with the congregation that Special Church is a place where God's word is heard and faith grows. Art is created, acts of caring are performed and friendships are shared. Music and enthusiastic singing with Matt Hennessy, a music therapist from Arts for Healing, is a highlight that touches everyone's soul. The shining stars of Special Church are its members who are defined by their gifts and not by their challenges. They bring their light to every gathering."
***
Morgenthal Frederics—the eyewear shop at Main Street and Morse Court—is collecting used eyeglasses through Nov. 30 for an international nonprofit organization. New Eyes for the Needy was founded in 1932, and in the last reportable year it helped more than 6,500 U.S. residents in need and recycled 250,000 glasses in 21 developing countries.
***
The town on Oct. 26 received a building permit application from M2 Partners, developer of Merritt Village, to construct four new multifamily residential units, with a gross square footage of 60,385, as well as underground and surface parking at Maple and Park Streets. The project will cost about $6 million to build, according to the application. A separate application came in for $150,000 in retaining walls related to construction.
***
The United Nations Committee of New Canaan commemorated United Nations Day on Oct. 24 raised the UN flag at the Town Hall. Those in attendance included members of the United Nations Committee of New Canaan, First Selectman Rob Mallozzi and Selectmen Beth Jones and Nick Williams. Mallozzi read a proclamation while the flag was raised. The nonprofit organization hosts two lectures each year in partnership with New Canaan Library. It has raised more than $48,000 for clearing landmines in Cambodia, over $150,000 for girls' schools in Afghanistan and has sponsored refugee resettlement awareness campaigns. It also helped sponsor the NCHS Model UN Club for their participation in a five-day simulation of the United Nations in The Hague, Netherlands.
***
Avalon Communities Inc. has moved to evict a woman from an Avalon Drive East apartment after she failed to pay $3,355 in rent for the month, according to an Oct. 27 filing in state Superior Court in Norwalk. The defendant moved into the unit in June under a 1-year lease, according to the complaint.
***
Bankwell partnered with New England Dance Theater again this year to provide financial support for the NEDT Nutcracker Benefit Performance, where children and families from local service organizations have the opportunity to experience an interactive, bilingual children's performance of the Nutcracker Ballet with Norwalk Symphony Orchestra. Tickets for the 32nd Annual Nutcracker Ballet performances Dec. 8 to 10 can be found here.
***
The town's Building Department on Thursday issued a demolition permit for 61 Sturbridge Hill Road. Tax records show that the 2.43-acre property includes a 1971-built Colonial. It was purchased in July for $1.5 million by a company whose principals live in Farmington and Middletown, according to records on file with the Connecticut Secretary of the State.
***
Some youth field hockey news here, submitted by Darleen Ferraro: For the second time this season, NC Red has taken on the Wesport Wreckers 7 Blue team and has come out with a victory. The weather was beautiful for field hockey and the trees were filled with vibrant oranges, yellows and reds. Leaves were falling from the sky as the girls ran up and down the field. In addition to the red leaves, there was a voluminous amount of red on the field. This blaze of red was coming from the girls and their uniforms. They were on the move and ready for action.
The first goal of the game went to Polly Parsons-Hills after a beautiful pass from Katherine O'Connell. The team was fired up and at this point the score was 1-1. Westport had snuck one in on NC's goalie, Amelia Totaro. That did not stop NC Red, for it only made them more determined to take the game back and move ahead of Westport. Skylar Bennett, Taylor Cloud, Cece Easley, Saige Hartsleif, Avery Morawa, Ellie Parkhill, Hannah Smick and Abby Richardson all knew they had to continue to work hard to pass the ball and get it into scoring position. The second goal of the game went again to Parsons-Hills. She had taken this one on her own and shot it in the net. The girls were up now 2-1.
Coach Hills was not happy about this score and made sure at half-time to give the girls a pep talk that REALLY resonated with them, since they knew they could do better. The third goal of the game went to Cece Ferriera after a side pass from Parsons-Hills. The score of 3-1 put a smile across Coach Hill's face. After a long half of passing and working the field, Victoria Lockhart scored the fourth goal of the game. The game ended with a final score of 4-1. New Canaan Red proved again that they will not be defeated! They are looking forward to their jamboree next weekend as they face this team again along with Norwalk and Trumbull.
***
Finally, here are some photos from "Meet-and-Greet" campaign events on Oct. 28 for candidates for elected office in town:
New Canaan Democrats gather at a campaign event at Mead Park on Oct. 28, 2017. Contributed