Town Treasurer Andrew Brooks told members of the Town Council on Wednesday night that New Canaan's General Fund balances as of Dec. 31 were up about $8 million over the prior year—an indication, he said, that many residents prepaid their tax bills to take full advantage of a deduction to be capped now at $10,000.
***
The Police Commission on Wednesday night voted 3-0 to approve April 22 and Sept. 16 dates for Caffeine & Carburetors. Police Chief Leon Krolikowski said the auto enthusiasts' gathering "runs very well." The Parks & Recreation Commission is scheduled to vote Feb. 14 on requested dates in Waveny of June 17 and Oct. 21.
***
Town Council member Ken Campbell announced Wednesday night that he's stepping down from the legislative body.
***
Stewart's Market and Planet New Canaan teamed up to promote the use of reusable bags and support the New Canaan All Sports Booster Club. From now until mid-March, for every reusable bag used, 5 cents will go to the Booster Club, which funds coaching positions for all sports. This donation is in addition to Stewart's policy of a 5-cent discount for each reusable bag used by customers. Any reusable bag may be used for the donation and discount. Stewart's Market does sell a variety of their own bags, including an insulated bag, and customers can use their T-Bill points toward the purchase of bags. Founded by members of the local community, Planet New Canaan is a non-partisan group committed to bringing awareness about the environmental issues that face the town and the world, both today and in the future, through film screenings, presentations and community outreach.
***
Spring registration is now open for New Canaan Softball. Join a successful program that teaches the game of softball and stresses the importance of being a team player for girls in Grades K-8. Go to www.newcanaansoftball.com for more information and register by Feb. 11 to avoid a late fee.
***
Final warning: You have until the end of January to pay a $10 renewal fee to remain on waitlists for the three commuter parking lots in New Canaan—Lumberyard, Richmond Hill and Talmadge Hill. The deadline originally had been due Dec. 29, and those who do not pay the renewal fee will lose their places.
***
The Police Commission voted unanimously to elect Sperry DeCew as its next chairman, starting at the group's Feb. 21 meeting.
***
LiveGirl hosted a girl empowerment leadership summit in honor or MLK Day on Monday, January 15th that brought together 75 middle school girls plus 15 high school mentors from across Fairfield County. Lena Pacheco from the Connecticut Women's Hall of Fame shined a light on some of the state's most remarkable women and how they overcame obstacles and grew into confident leaders.
The girls also had the opportunity to meet 6th grader Jessica Brocksom, who is a Milford resident and currently serving as Connecticut's Kid Governor. Jessica was elected in November 2016 by 5th graders across the state through a civics program created by the Connecticut Public Affairs Network. The girls also enjoyed a poetry workshop, team building games, and lunch.
***
Finally, here's a gallery of other newsworthy items around New Canaan: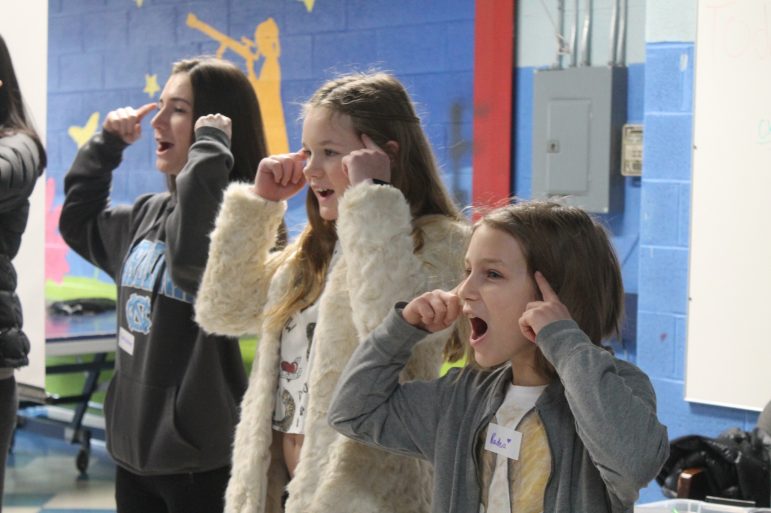 LiveGirls with Lena Pacheco, Connecticut's Women's Hall of Fame at MLK Day Summit on January 15th, 2018