The Board of Education is hiring a forensic accountant to help figure out whether the lunch ladies arrested last month for stealing nearly $500,000 in cash from cafeterias at the middle and high schools also depleted parents' charge accounts, according to New Canaan's highest elected official. The district is "hiring a forensic accountant, I understand, to examine the possible overcharge," First Selectman Kevin Moynihan said during a press briefing Thursday. Noting that the district was reimbursed by an insurer, Moynihan said: "I am just a bystander, but my idea would be that the $500,000 should be used to reduce their budget next year because all of the taxpayers would benefit from that. So if they are looking for $93 million, they ought to get $500,000 less. They are going to argue that you cannot lose money out of an enterprise operation into the education side of the ledger." It isn't clear whether the forensic accountant has been hired yet, who it is or how much he or she is being paid—district officials could not be reached for comment.
***
Foursomes and sponsorships are available for The Chamber Cup golf tournament, to be held Oct. 11 at Woodway Country Club in Darien. The event is designed to raise funds to support the local nonprofits and community events produced by the New Canaan Chamber of Commerce. The Chamber Cup's lead sponsor is Rand Insurance. Read more here.
***
Town officials will ask the Connecticut Department of Transportation for permission to cut back brush and trees located in a state right-of-way on Route 123 in order to improve the sight line for motorists traveling west on Michigan Road seeking to cross Smith Ridge Road, following a serious motor vehicle accident there last week where a tractor-trailer T-boned a Honda Civic. Though the Honda motorist fortunately survived, if there were a passenger in the car he or she likely would have been killed, according to police speaking at a meeting of the Traffic Calming Work Group meeting Tuesday.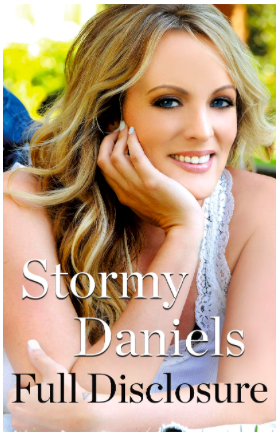 ***
To clarify: There's no relationship between Stormy Daniels's upcoming book "Full Disclosure" and the New Canaanite column by local resident Susan Gelvin by the same name (which predates the memoir's announcement, if not the relationship it alleges, by several months).
***
The New Canaan Civilian Police Academy is now accepting applications for its fall classes, to be held 6 to 9 p.m. Thursdays starting Oct. 11 to Dec. 13. Topics may include traffic enforcement, criminal investigations, patrol procedure, crime scene, use of force, domestic violence, Animal Control and more. Applicants must be 18 and preference will be given to town residents. More information can be found here.
***
Congratulations to The Sneddon Team of William Pitt Sotheby's International Realty on being ranked (again) in the top-10 agent teams in Connecticut according to the 2018 REAL Trends "America's Best" list of real estate professionals. Led by New Canaanites Jaime and Kendall Sneddon, the team was ranked No. 9 statewide by sales volume in 2017. "This achievement also solidifies The Sneddon Team as the top selling agent team in New Canaan by a wide margin," according to a press release. Agents Ashley Howell Petraska and Bonnie Sztam fill out The Sneddon Team.
***
Police at about 6:28 p.m. Wednesday cited a 20-year-old Norwalk man for possession of less than .5 ounces of marijuana and possession of drug paraphernalia after an officer stopped his car on Ponus Ridge for having no rear bumper or taillights. 
***
Suburbanites is a women's organization in New Canaan whose activities include theatre, bridge and luncheons. Anyone interested in joining for this year, please contact Linda Maranis at lmaranis@optonline.net regarding membership or Penny Rashin regarding bridge at rashin@optonline.net. Bridge groups are being formed now.
***
The Board of Selectmen voted 3-0 Tuesday to approve the hiring of April Conner as payroll and benefit administrator for the town. She succeeds Benefits Coordinator Amy Lynn in the role, who is moving on in part because of the heavy Merritt Parkway traffic, officials said. First Selectman Kevin Moynihan and Selectmen Kit Devereaux and Nick Williams voted in favor of the hiring. Moynihan said that "Amy has been a great worker" and "April looks like a tremendous employee."
***
The New Canaan Fire Department participated in Operation Save a Life Sept. 13 in New Haven. Sponsored by Kidde Detectors, Home Depot, New England Fire Chiefs, J.P. Maguire Property Damage and Clean up and News 8 WTNH, the event gives out smoke and carbon monoxide detectors to fire departments. Detectors are provided for fire departments to hand out to residents in their communities for those that don't have them or can't afford them. If you need a detector stop by or call the New Canaan Fire Department at 203-594-3140. 
***
The selectmen on Tuesday by a 3-0 approved the following residents to the Seniors Telehealth 2.0 Committee: Barbara Achenbaum, Michael Allocca, Lucy Baney, Michelle Beltrano, Ralph Hills, Quentin Leo and Jim Lisher.
***
Larcenies from vehicles year-to-date are at 16 compared to 25 in 2017, officials said during the Police Commission meeting Wednesday. Stolen vehicles from New Canaan are up to eight, from five at the same time last year, officials said.
***
In honor of Ovarian Cancer Awareness month, members of the Class of 2019 in the New Canaan Chapter of National Charity League Inc. participated in a national campaign known as Turn the Towns Teal. The campaign is designed to help raise awareness for ovarian cancer, which is nicknamed the silent disease because of how often its symptoms go undiagnosed. The volunteers hung teal ribbons and posters around town and gave out information card and pamphlets with details about how to recognize the symptoms of ovarian cancer.
***
Eversource on Thursday shared an updated construction schedule for its natural gas expansion. The following is weather-permitting and subject to change:
South Avenue from Farm Road to the YMCA (night work): Sept. 16 to 26
Main Street from Farm Road to River Road: Sept. 27 to 29
***
Finally, the New Canaan Democrats say attendance at the organization's BBQ Sunday was "record-smashing" and the event was a "historic success." The Dems offered special thanks to "Walter Stewart's Market for the delicious food, BAD DOG BUDDY for the flawless tunes, and the Carriage Barn Arts Center for the uniquely New Canaan venue filled with art created in our very own community." Lorah Haskins, Shiva Sarram and Anaamari Mikkola also were singled out for their contributions. Here are some photos:
Photos from the New Canaan Democrats BBQ on Sept. 16, 2018. Contributed