New Canaan Police received a report at about 3:46 p.m. on May 15 of a basement window that had been removed from the commercial building at 181 Elm St., with a computer and computer-related items stolen.
***
The Ethics Board has issued its final "Report and Determination" regarding its investigation into First Selectman Kevin Moynihan, finding precedent among other commissions when confronted with "conduct that may represent a violation of the rules they are charged with enforcing"—namely: "On these observed occasions, the state commission (having no precedent to apply) has, in effect, pronounced the conduct suspect and issued guidance that, should similar conduct come before it again, it might be considered a violation."
***
The vacant commercial space at 21 Forest St. (shopfront unit 2), which had been occupied by Green & Tonic, sold for $940,000, according to a property transfer recorded May 9 in the Town Clerk's office. The buyer, Giants Two LLC, is a company whose principal is listed in state records as a Fairfield resident.
***
Police at about 12:10 p.m. on May 14 received a report of a moped stolen from the train station parking lot downtown.
***
During Tuesday's Board of Selectmen meeting, Moynihan told Selectman Kathleen Corbet regarding the ethics complaint lodged against him that "this matter did not belong before the Ethics Code, it did not come under the Ethics Code, it was politically motivated, your participation in it was disgraceful, in my view."
***
The New Canaan Building Department on May 11 received an application to demolish the 99-year-old house at 31 Green Ave.
***
Police received a complaint at about 1:26 p.m. Tuesday of two males exiting the Merry Bee Cabin in Kiwanis Park. No damage was discovered there.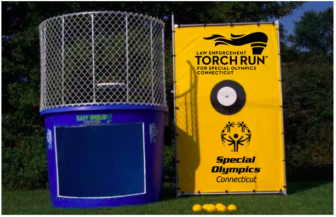 ***
Come out and "Dunk a Cop" to benefit Special Olympics Connecticut at Caffeine & Carburetors Sunday, May 22 in front of the Playhouse on Elm Street. NCPD will be there from 8:30 to 11:30 a.m.
***
Congratulations to 2007 New Canaan High School graduate Curt Casali on a big week—the town's first Major League Baseball player has crushed three home runs for the San Francisco Giants since last Friday:
3-run 💣, courtesy of Curt Casali

(via @NBCSGiants)pic.twitter.com/VosHuCEwsA

— FOX Sports: MLB (@MLBONFOX) May 17, 2022
***
Wednesday nights at Waveny are back: The 2022 Summer Concert Series schedule has been set, kicking off June 15 with Nick Depuy and Big Fly. All of the concerts are open to New Canaan residents free of charge and held from 7:30 p.m. until 9:30 p.m. Wednesdays in the field out back of Waveny House. Be sure to check out The Scavengers on Aug. 3 (that's New Canaan Music owner Phil Williams's band). Sponsors include Karl Chevrolet (for the Aug. 10 show). 
***
United Methodist Church of New Canaan is hiring a director of children and family ministries, as well as a director of youth and young adult ministries. More info here.
***
Police received a report at 10:16 a.m. Tuesday of a stolen vehicle—unlocked, keys inside—on Vitti Street.
***
The New Canaan police officer who is on leave following his arrest on several explosive- and animal cruelty-related offenses has pleaded not guilty to all charges.
***
VFW Post 653 is raising funds for flags to place on the gravestones of military veterans buried in New Canaan—donation information here. Also, please consider joining the VFW for the placement of the flags on the morning of Saturday, May 28, ahead of Memorial Day—meet at 8 a.m. near the Main Street entrance to Lakeview Cemetery. Details here.
***
An iPad was reported stolen from an unlocked car on Greenley Road, at 7:53 a.m. Tuesday, according to police.
***
Be sure to check out the Spectrum Contemporary Art Show at Carriage Barn Arts Center before it closes—it's open through May 22. Here are other noteworthy local events:
***
Element Aesthetics has opened in New Canaan, and is offering 10% off to New Canaanite readers, mention code 'New Canaanite.' Here's a Q&A with owner Merry Thornton.
***
A motorist passed a stopped school bus at about 4:56 p.m. Monday in the area of Park and Mead Streets, according to a police report.
***
New Canaan Public Schools has hired Sean O'Keefe as its new director of finance and operations. He succeeds Dr. Jo-Ann Keating in the position. O'Keefe has served as COO in Greenwich Public Schools since 2019. He holds a bachelor's degree in accounting and MBA in finance from Fordham University.
***
The Glass House's 2022 season is open, weekdays from 10 a.m. to 4 p.m. Book a guided tour here.
***
Save the date: The dedication for the Steve Benko Pool in Waveny is set for 10:30 a.m. on Saturday, June 4. The dedication will be open to the public, details to follow.
***
Finally, police received reports of stolen packages on May 16 at 12:35 p.m. (from a mailbox on Cheese Spring Road) and 1:54 p.m. (from a front door on Park Street).