(I apologize for the display and the sepia-like tone of the video. I have no clue why it looks this way and I can't get it to look normal no matter what I tr…
New Canaan features at least one monument to the genius of Stamford resident and actor Gene Wilder, who died Monday at age 83.
The historic property at 757 Oenoke Ridge Road that features paddocks out front with alpacas has been dubbed 'Abby-Normal Farm' by its owners. The name is a reference to the brain placed in the head of the monster in Mel Brooks' "Young Frankenstein," which Wilder co-wrote and in which he stars (see video above).
***
We're hearing that HGTV's "Property Brothers" TV show is doing a house on White Birch Road. Tax records show that the 1955-built ranch sold in March for $890,000 and received approval from the Building Department for a $100,000 renovation two months later.
***
New Canaan Youth Football's second annual outdoor "movie night" came to an abrupt end Tuesday night when the power went out at the venue and parents were asked to please come pick up their kids. It was scheduled for 7:30 p.m. at what NCYF called "the grass fields"—possibly at New Canaan High School. NCYF officials said parents would be refunded for the outing. The subject of the email sent to parents was "Power is out at fields – pick up kids now please!"
***
The Planning & Zoning Commission on Tuesday night approved a Forest Street commercial building owner's request to allow him to meet a parking requirement by paying a fee, as that individual pursues a plan to install a restaurant in the former Peachwave frozen yogurt space. P&Z is requiring the owner of 3-11 Forest St. to pay for 11 spaces, rather than the eight he was seeking.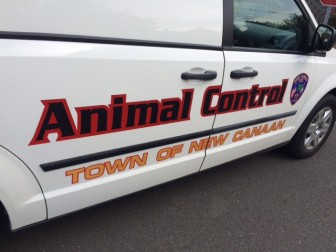 ***
Two dogs belonging to New Canaan residents vacationing in Martha's Vineyard bit a relative at the Massachusetts getaway, prompting animal officials there to contact our police department. On Aug. 18, news came from the Edgartown, Mass. inspector of animals that a pair of Australian shepherds bit the person multiple times on his left thigh, left calf and right thigh, according to the New Canaan Police Department's Animal Control section. The victim suffered puncture, hematoma, scratches and gouges, and was treated by a physician. The out-of-state officials phoned police here for permission to let the dogs undergo a home quarantine (which they did). Both animals are licensed and up-to-date on their shots, according to Officer Allyson Halm, head fo Animal Control.
***
This Thursday is the first full day of school in New Canaan.
***
Two pieces of news from Grove Street: Weed & Duryea in New Canaan right now is offering $50 off of Weber brand grills, and Pet Pantry Warehouse is looking or a part-time sales associate—you've got to be able to lift up to 50 pounds. Details here.
***
A White Oak Shade Road family is undergoing a series of rabies vaccinations as a precaution, after a bat on Aug. 25 flew into and out of their house around 9 a.m. The residents didn't know just how long the bat was in the house or just where. They live near a home where a bat earlier this month tested positive for the virus.
***
The Board of Selectmen last week approved a request from Recreation Department to enter into an $11,022 contract with Darien Electric to supply and install new LED lights for two of the platform tennis courts at Waveny. The figure represents far less money than originally anticipated for the project, First Selectman Rob Mallozzi said.
***
Police on Aug. 18 impounded a senior Bernese mountain dog seen running in the road on Pocconock Trail at about 11:30 a.m. that day after the pet-sitter let the dog out and didn't realize it. The male dog spent the night at the NCPD Animal Control shelter at the Transfer Station. A second dog spotted with the Bernese was not found.
***
Congratulations to Connor Lytle for edging Caden Bowling last week in a tie-breaking final of the NFL "Punt Pass and Kick" contest, which drew 107 contestants from eight different towns. The final result in the boys division: Angelo Riccardelli 6-7, James Towers 8-9, Connor Lytle 10-11 and 3-time winner Ty Goff 12-13. In the girls division: Emily Pastushan 8-9, Lilly Kronguard 10-11, Alex Pastushan 12-13 and Sofia Delicata 14-15. Winners now move on to the sectional tournament to be held in October, followed by regionals to be held at Met Life Stadium in November.
***
Finally, Bankwell as part of its ongoing commitment to our community is collecting new and gently used shoes and boots for the Open Door Shelter through Sept. 30. Men's, women's and children's shoes can be brought to the following Bankwell branches during banking hours: 208 Elm St. or 156 Cherry St. in New Canaan, 370 Westport Ave. in Norwalk or 47 Old Ridgefield Road in Wilton. In a statement, Bankwell Executive Vice President and Chief Lending Officer Heidi DeWyngaert said, "This is the Bank's fourth annual collection in support of the Open Door Shelter. The shoe drive is a terrific way for Bankwell to help support those in need, and we are very appreciative of the generosity and support of so many caring individuals in our communities."