South Avenue has undergone a conspicuous transformation these last 15 years. Once lined with mid-20th century Capes and Colonials, it's now dominated by modern, custom-built homes. (Nothing wrong with that. It's just … different.)
One holdover from the "old" South Avenue is a gorgeous three-story home at the corner of Brooks Road, with the columned wraparound porch and dormer windows looking out over a perfectly manicured front lawn. The home is not only a throwback to an earlier time, but also has a significant history in the annals of New Canaan itself.
In 1898 a wealthy summer resident of New Canaan named Ellen Josephine Hall had purchased an 11-acre property on South Avenue with the intention of building a sanatorium for her nephew Dr. Charles Osborne, historians say. The venture was short-lived, as the Osbornes left town amid scandalous circumstances, according to an article from Mary Louise King in the New Canaan Historical Society's 1982 annual. In December 1900, Hall sold the property to Stamford residents Dr. Myron J. and Marion Brooks, tax records show.
New Canaan was a popular summer destination for well-to-do Manhattan residents to escape the oppressive city heat for the clean country air. Brooks used this reputation and with a clever marketing strategy, the Brooks sanatorium soon became a successful and well-known recovery home for tuberculosis patients. Brooks himself was so well regarded that by the time World War I broke out, he was appointed New Canaan's health officer and medical examiner—posts he maintained until 1929.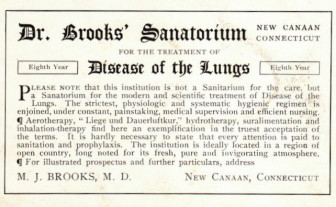 Around that time, Brooks closed the sanatorium and made the building his private residence. He lived there until the death of his wife in 1935, moving then to his son's home in Hawaii (where he passed away two years later).
After Brooks' death, local developers purchased and subdivided the property, and Brooks Road was born, the historical society annual says. The former sanatorium was converted into the Buttonball Inn featuring 11 bedrooms, eight baths and living rooms on the first and second floors. The Buttonball didn't last long, and in 1941 it was renamed the Three Hundred Inn, after its address—300 South Ave. (since renumbered 268 in the 1950s, then as 299 in the 1960s which it remains today). In 1946, the property was sold again and was called the Carlton Manor Inn, which closed in 1951. Finally, in June of 1956 the property was sold for the first time as a private residence to Louis Squitieri and his family for $28,000, who resided at 299 South Ave. for more than 40 years, until selling it to the MacLeod family in August of 2000.
Current owners and residents Meg and Lance Marciano—who purchased the property in 2011—had fallen in love with renovating and restoring old homes ever since they bought their first house.
"Our first house in Greenwich was built in 1925, and we fully renovated it," Meg Marciano told NewCanaanite.com Tuesday evening outside the front door of the house, traffic and pedestrians, many with dogs, passing by. "Then we bought a Victorian and fully renovated it. It's the greatest recycling that you could possibly do."
A 1990 New Canaan High School graduate, Marciano was familiar with the South Avenue house, and when it hit the market, she didn't have to think twice.
"We actually learned more about it once we had already purchased it," Marciano said. "It was a sanatorium, which everyone thinks is a loony bin, but it's not." (That'd be a 'sanitarium.')
Shortly after buying the home from the MacLeods, the Marcianos painstakingly renovated its interior.
"This needed a little T.L.C. and we felt we could do it, having lived in the old houses," Marciano said. "We had done a lot of renovations throughout the house and updated it, while still trying to give a nod to the historical aspect of it."
Before the paint had a chance to dry, the Marcianos had some unexpected guests show up at their front door. The Squitieri brothers—now in their 60s–came back to their former New Canaan home, looking for a walk down memory lane. Meg Marciano was delighted to oblige.
"We gave them a tour and it was really neat," Marciano said. "They told us about different things–there had been a fire in the attic that their family had fixed up. In the front window there is a bullet hole that was from a neighboring kid who had shot it with a BB gun. It's still there. Their mother had been a piano teacher in town, so in the front rooms there had been four pianos where children in town would come and take piano lessons here."
And what did the Squitieri brothers think of the updated interior?
"They were so happy with what we had done," Marciano said. "It made me feel great. I'd love to figure out how to get a plaque or something, especially in light of the teardowns. You never know what crazy person might come in and do something like that."