New Canaan Police received two reports of bobcat sightings on Tuesday, at 4:50 p.m. on Parish Lane and 5:05 p.m. on Llewellyn Drive.
***
The town on Thursday received an appeal of the Planning & Zoning Commission's Jan. 31 decision in favor of amending the New Canaan Zoning Regulations following a re-filed application by Grace Farms. According to the complaint from Timothy Curt and Dona Bissonnette, P&Z "acted illegally, arbitrarily and in abuse of the discretion in it" in several ways, including: that a pre-hearing public notice was defective; the chairman refused to recuse himself; the commission improperly rejected a valid petition; the plaintiffs' property values are negatively affected; and the notice of the commission's decision was defective.
***
The Forum on Public Buildings, originally scheduled for March, has been postponed to a date TBD after budget season.
***
Come cheer on the New Canaan Boys Basketball team and celebrate the three New Canaan High School senior players: Camden Nelson, Jake Sloane and Alex Galvan. The celebration starts before tip-off at 7 p.m. on Wednesday Feb. 21 at NCHS.
***
The criminal trespass charges brought in September against New Canaan residents Terry Spring and Jack Trifero have been dropped, according to Connecticut Judicial Branch records. Spring still faces a misdemeanor charge of interfering with an officer, and the next court date on that is March 20.
***
Spotlight on this event: New Canaan Library and The Glass House will present Hilary Swift, chief curator and creative director of the Glass House, speaking about the art and architecture of Philip Johnson. The event will be held in the library's Adrian Lamb Room at 6:30 p.m. on Thursday, February 22, preceded by a light reception at 6 p.m. Register online.
***
Finally, here's a gallery of other newsworthy events from around town: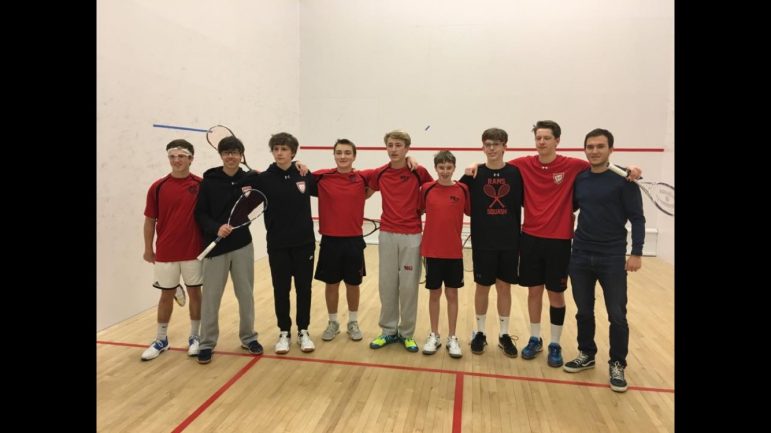 NCHS Boys Squash wraps up successful season The New Canaan Boys Squash Team started the season on Nov 30th with a match against a strong team at Greens Farms Academy. With a 1-6 loss last season, the Varsity Rams were excited to take on the Dragons from Greens Farms. The match started with wins by Charlie Burns, Teddy Manges and Jamie Cutler, who had a 12-10 win in the 5th game. Dramatic matches played by Reid Dahill, Austin Platt and Bradley Hennessy, losing 13-15 in a nail biter of the 5th game, set up the tie-breaking battle of the top seeds, William Comyns and Duda Voldman. With both JV and Varsity players from New Canaan in attendance, the spirit of the audience helped William Comyns on to the first victory for the team for the season. The JV team was surpassed by GFA 1-6, with Chris Richardson playing in a tight match, coming back in the 2nd and 4th games only to succumb to his opponent in the tight 5th game. Nick Lambrinos won in a close 4 game match, 13-11,12- 10,5-11,12- 10. The JV team, with many first year squash players, started strong with a 5-2 win over Staples on Nov 27th. The Varsity team headed to Yale on Dec 2nd for a multi match day against perennial heavy hitters, Darien and New Haven. The day provided for great displays of sportsmanship, school pride and team bonding. On Dec 16th, the Rams headed to New York City to play City Squash/Thurgood Marshall. Wins by Austin Platt, Charlie Burns and Jamie Cutler and loses by Reid Dahill, Teddy Manges and Bradley Hennessy set up the deciding tie-breaking match between New Canaan top seed William Comyns and Luke Robbins of City Squash. William Comyns prevailed in a tight 5 game match, 11-9,9- 11,11-4,5- 11,11-9. Both the Varsity and JV teams headed to North Wilton Road on Jan 11th to play crosstown rival St. Lukes. The Rams celebrated with a tight 4-3 victory by the JV Team and decisive 5–2 victory by the Varsity. It was then on the FairWest tournament at Chelsea Piers in Stamford, with 120 boys playing individual matches for team points. New Canaan players won 7 bracket draws and came in 2nd in 3 more of the 16 draws in the tournament. JV team placed 2nd in Division III. New Canaan High Boys Varsity Squash Team finishes with strong showing at the US High School Team Squash Championships The New Canaan Boys Varsity Squash wrapped up a successful season with a 4th place finish in Division V at the US High School Team Squash Championships in Philadelphia February 2nd-4th. The Championship weekend is a great showcase of squash in the US with teams from many states coming together for the tournament. Emotions were running particularly high after New Canaan won its first round 6-1 against Boys Latin of MD. Charlie Burns, Bradley Hennessy, Jamie Cutler, and Austin Platt each won decisive 3-0 victories. Teddy Manges and Will Comyns prevailed with 3-1 victories. The following day, the Rams defeated Fordham Prep of NY, 5-2, in a dramatic second round. Reid Dahill kicked off the match winning a major upset, beating his opponent 3-1. Austin Platt, initially down in the first game 6-0, came back to win 11-7, ultimately defeating his opponent 3-0. The momentum continued with Charlie Burns winning a decisive 3-0 and Jamie Cutler earning a team victory, winning 3-1. Will Comyns wrapped it up with a 3-0 victory as well. Having pulled off the upset versus Fordham Prep, New Canaan found themselves in the Semi-Finals versus The Hill School of PA. New Canaan fought hard but lost a nail-biter 4-3. The Championship weekend highlighted the talent and grit the team demonstrated all season long. They finished with an overall 6-7 record and were competitive in nearly all their matches. Co-Captains Charlie Burns and Will Comyns led the way with great support from juniors Reid Dahill, Teddy Manges, sophomores Bradley Hennessy, Jamie Cutler, and promising freshman Austin Platt. Momentum in the program built throughout the season and will certainly carry over to next year as the team is only graduating one senior, Charlie Burns. Squash overall is growing rapidly in the US with many middle school, high school, and college teams adding new programs. Fairfield County and Westchester County are leading the way with some of the top players in the country coming from the area. Current college standouts include former New Canaan Rams Grayson and Killian Bubrowsky, brothers, at The University of Virginia and Hal Holappa at Dickinson College. New Canaan High Squash practices and plays its home matches at Chelsea Piers in Stamford and is coached by Rei Hergeth, a former Trinity College #1 player and College National Champion. Chelsea Piers recently appointed a new Director, John Musto, former captain of the Yale University Squash Team and four-time 1st team All-American playing #1 for the two-time National Champions; the top ranked American junior BU17 & BU19 player; former Professional Squash Association (PSA) Tour player, winner of the US Men's 45 & older National Championship; and a Level III US Squash Certified Coach.