Three more Connecticut companies this month placed mechanic's liens on the New Canaan home being built by the estranged husband of a missing local mom of five. O&G Industries ($13,654.33), Peter Kupchick Heating & Cooling Inc. ($10,000) and plumber Richard Belonick ($26,250) all filed liens in state Superior Court in connection with materials and services provided at 61 Sturbridge Hill Road. Fotis Dulos's Fore Group Inc. construction company is nearly finished building a 7,300-square-foot home there. A Meriden-based lumber company earlier this year filed a $19,000 lien. Fotis Dulos and his girlfriend, Michelle Troconis, are out on $500,000 bond each after New Canaan Police charged them with tampering and hindering in the case of Jennifer Dulos, missing since May 24.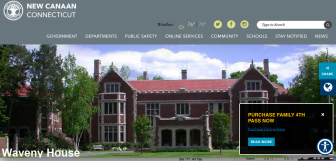 ***
The town's new, more interactive website has been launched—check it out here and put it in your bookmarks.
***
More than one year after the idea came up, the Board of Selectmen on Tuesday voted 3-0 to dissolve the Youth Sports Committee. The town and New Canaan Athletic Foundation are close to finalizing a Memorandum of Understanding that will establish a formal public-private partnership. Under the MoU, the Athletic Foundation would be empowered to collect an existing fields usage fee—or "player use fee"—that is assessed to youth sports participants.
***
Two events to put in your calendar:
Taylor Guitars "Find Your Fit"—4 to 7 p.m. on Tuesday, June 25 at New Canaan Music
New Canaan Family Fourth/Waveny Fireworks, 5 p.m. on Thursday, July 4—passes are on sale now. Purchase here online or buy at the Recreation Department office in Waveny House, Baskin-Robbins, the New Canaan Toy Store, Walter Stewart's Market, Gates or Town Clerk's Office.
***
One of the well-loved donkeys living in the new barn at the New Canaan Nature Center has passed away, the DPW said in an Instagram post last week. "It is with a heavy heart that we note the passing of Poppy," it said. "She touched many lives with her kind nature." Public Works Director Tiger Mann said during Tuesday's selectmen meeting that Poppy was advanced in age and had been in pain. "We will miss Poppy," he said.
***
Here's a video montage of the NCHS Senior Internship Program created by Class of 2019 grads Tyler Kortekaas, Katie Jahns and Campbell Slayzk. It highlights internships including at This Old House, Nurenu, Grace Farms, Norwalk Seaport Association, Earthplace Harbor Watch, Saxe Middle School, Rhone, Bartlett Arboretum and St. Marks Gospel Garden.
***
New Canaan's Steve Eno launched a new business, Fix Your Cable Bill, where he helps people understand what they're currently paying for, the channels they actually watch and what live TV streaming service will give them what they need. He then walks them through how to make the switch.
***
The 12th Annual Preservation Awards were presented by the New Canaan Preservation Alliance on June 9 at the New Canaan Historical Society. This year, there were three awards for rehabilitation ranging from the 1790 "Puddle Duck Farm" on Brushy Ridge, to the 1795 Talmadge home on Weed with its unusual oblique stone chimney, to the 1926 home on Hoyt Street built on land formerly owned by the Hersam family. Winners of the President's Award for preservation included a Comstock home from 1761 on Oenoke Ridge and a 1909 home at the intersection of South Avenue and Bank Street. The Alliance also presented a special thank-you to Robin Beckett for her efforts to save Mead Park Brick Barn. A "Friend of Preservation" award was presented to Kit Devereaux, John Engel, Joe Paladino and Cristina Ross for their support of preservation in New Canaan by "listening, supporting, speaking out, and never backing down from a conviction."
***
First Selectman Kevin Moynihan announced this week that June 21 is "Art Berry Day" in New Canaan. The proclamation recognizes the role that Berry has played over the past five years on the Board of the New Canaan Land Trust. First as treasurer, and then over the past three years as president, Berry has been instrumental in engaging the New Canaan community in the protecting and stewarding open space. Under his stewardship, the Land Trust has increased the amount of open space protected in perpetuity to nearly 400 acres. Notably, he spearheaded a capital campaign to acquire the Fowler property on Silvermine Road in 2017, strategically expanding an existing NCLT property to create 40 acres of conserved open space.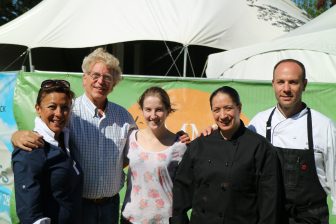 ***
Summer Theatre of New Canaan is taking advantage of its new downtown location to create special happy hour and dining offers on the day of the performance for those attending. In addition, Walter Stewart's Market is continuing its tradition of offering gourmet-boxed meals for picnics before, or after, the show. The participating restaurants are: Baldanza Café, Cava, elm, Farmer's Table, Gates, New Canaan Diner, Press Burger, Roger Sherman Inn, South End and Spiga. Details can be found here. 
***
Finally, the Waveny Park Conservancy held a reception Saturday in the parterre garden to celebrate its donors and community partners. In the clearing near the walled garden, the first site-specific commission of an outdoor sculpture at Waveny was unveiled. The Nest by Luigi Antonioli is a 7-foot bird's nest made of found mountain laurel branches, representing the state flower. The massive "eggs" within were carved from a recently cut white pine tree, the trunk of which the artist found in an area dump. "The Nest reflects the concept of home, beginnings, and innocence and is appropriate in Waveny, which is host to many ground-nesting birds," the Conservancy said in a press release.