For New Canaan's first responders, every life saved is a proud testament to expert training, courage and calm actions in the the most difficult circumstances.
In recent years, members of the New Canaan Police Department have been honored for saving the life of a local man who had gone into cardiac arrest, administering Narcan to an individual who had overdosed and assisting a choking woman.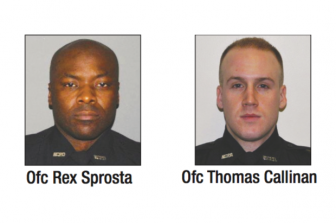 On Saturday, two officers—Rex Sprosta and Tom Callinan—saved one of their own.
According to Police Chief Leon Krolikowski, at about 7 a.m. on May 17, Officer Jeffrey Pollock "suffered a medical emergency" while taking the department's physical fitness test.
"Officer Rex Sprosta who was administering our Department's physical fitness test and Officer Tom Callinan who was working the patrol shift, rendered life-saving care to Officer Pollock," Krolikowski said in a press release. "Other members of our Department, members of the New Canaan Volunteer Ambulance Corps, and other first responders assisted with Officer Pollock's care."
Ultimately, Pollock was transported to a treatment facility and he now is stable and continues to undergo testing and treatment, the chief said.
"We are exceptionally proud of how expertly our officers, members of the NCVAC and other first responders worked together and performed during this emergency," Krolikowski said. "Everyone's teamwork ensured the best outcome and saved Officer Pollock's life."
Sprosta and Callinan at an awards ceremony to be held soon will receive, from Pollock himself, the department's lifesaving medal, according to the chief.
"Special thanks to the doctors, nurses, paramedics and other medical professionals who continue to provide expert care to Officer Pollock," he said.