'Who Knew?' is sponsored by Walter Stewart's Market.
There was always an unbidden niblet. 
In my industry, the two-martini lunch disappeared around the time Don Draper collected his first pension check. By the time I was a real-deal creative director at a New York ad agency, lunch was a markedly less glamorous occasion: a salad, hastily retrieved and mindlessly consumed with a side of news headlines and online sample sales, from a plastic bowl in my office.
These salads came from the type of place where you'd walk through a roaring, chaotic assembly line and point through the sneeze guard to your desired ingredients. On the other side of the glass, a salad maker chopped and tossed it to your desired consistency. I never pointed at the corn, yet a stray kernel always made it into my salad–a guilty little hopalong, a testament to the overall haphazardness of the environment from whence it came. And I'd eat it anyhow. When the universe provides surprise corn, what else is one to do? (See also: weird-shaped Triscuits.) Nowadays, I miss the ease, frugality, and lowkey disorderliness of a lunchtime salad run. And after a winter spent eating, let's face it, less-than-judiciously, I needed to actively seek out some healthy eating.
I turned first to Yelp, which in most cases means "I abandoned all reason and decided to allow a senseless algorithm fueled by the fires of Internet Crazy to determine what I put in my mouth." Searching for "salad 06840," I was first served an ad for a pizza place in Stamford (nice try, sneaky pizza lobbyists) and then I was given a few recommendations for a place to grab a lunch salad in our little town. For the next few days, I visited each. Here are the results:
Greenology
96 Main Street
(203) 309-5700
Greenology Kale Caesar Salad
Price: $12.00
Calories: about 350, by rough estimate
Stray corn niblets observed: 0
Veganism has come a long way from the joyless sprouts-and-tempeh joints that dotted the Berkeley food landscape of my youth. In crossing the continent (and aging three decades), what used to be a culinary hairshirt became a forward-thinking, flexible food ideology that's healthy, uses fewer resources than meat, and, most importantly, tastes good. It helps when places like Greenology enter the market with a deep bench. You can find intriguing, alternative proteins like Beyond Meat meatballs, carrot lox (must! try! carrot! lox!), and soy chorizo, but they also make colorful, fun salads and bowls that don't attempt to remind you of the meat you're not eating.

Our visit netted a new favorite: the gluten-free kale Caesar salad, with crunchy chickpeas instead of croutons, an egg- and anchovy-free Caesar dressing, grape tomatoes, and what I must assume was some kind of dairy-free Parmesan cheese. I've always viewed the alternative cheese section at any grocery store with fear and mild disdain, but this ersatz Parm was good; umami-rich, and texturally similar to the real deal. The salad was savory, hearty, and, if not a Caesar for the purists, certainly one for the weekly rotation. 
Fun fact: until 2013, Pizza Hut was the single biggest purchaser of kale in the United States. They used it to cover the ice on their salad bars. Thanks to the anointing powers of Gwyneth Paltrow, and, more realistically, to cultivars of kale grown to favor taste over frost hardiness, we can now actually eat the stuff.

Also fabulous, if not strictly diet food: Greenology's salad pizza.
It's a salad. On a pizza.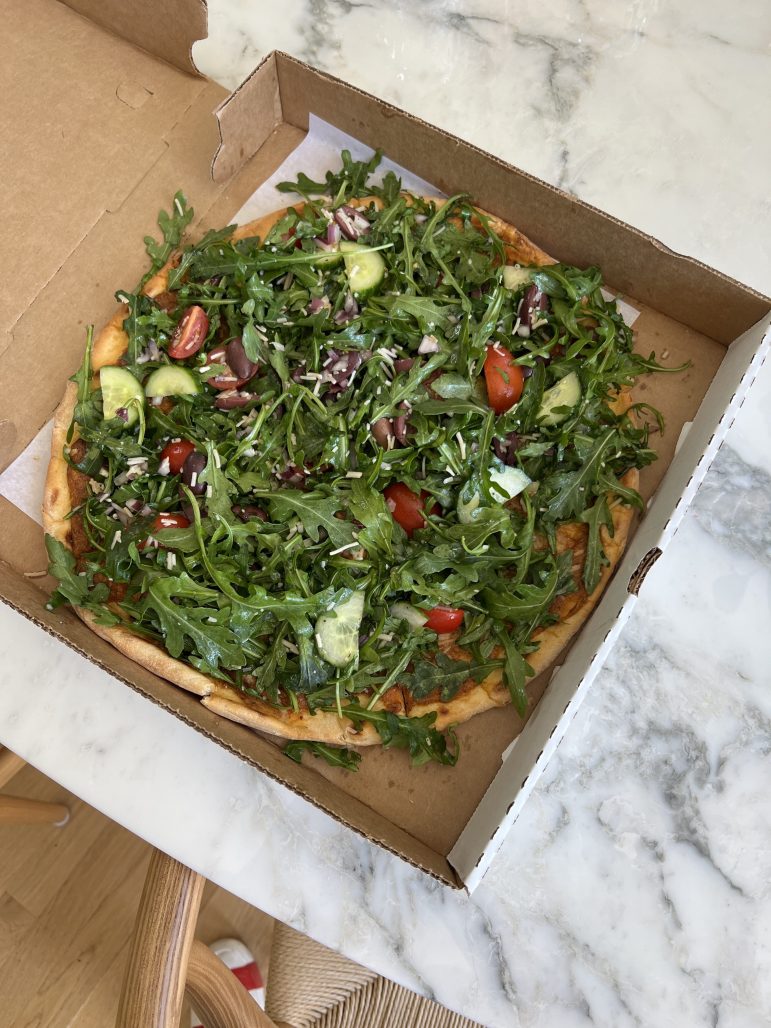 Let's not ruin this moment with words.
Pesca Peruvian Bistro
70 Main Street
(203) 594-7400

Pesca Ensalada Criolla
Price: $14, but the chicken was extra
Calories: let's just not think about those
Corn: yes!
Pesca may be better known for their ceviche, empanadas, and beachy vibes than their salads, but Yelp told us to go there for a salad, and it seemed like, for once, Yelp might be on to something. So we snuck downtown for a midafternoon rendezvous away from our laptops. To celebrate this temporary breakup from the corporate world, I ordered a Sancerre. 
Pesca's Ensalada Criolla is essentially a deconstructed chef's salad with a creamy, citrusy oregano dressing, and it was excellent. It's not salsa criolla, the Peruvian topping of citrus-marinated onions, chiles, and cilantro, but I wasn't mad at it for false advertising. I loved the six-minute egg, the (indulgent!) half-avocado, and the chimichurri-topped chicken. This isn't an insipid, flavorless salad, and with all that bacon, it's not diet food, either. But the supporting role in this salad was played by choclo, a giant-kernel, chewy Incan corn often used in Peruvian cuisine. It was intentional corn, all right, and it tied our New Canaan afternoon to culinary roots 3,500 miles (and thousands of years) away. 
My husband ordered the taco salad (men, am I right?), and it was, quite literally, the taco-est taco salad I've ever seen. It was a folded parmesan crisp the shape of a steroidal supertaco, filled with Caesar salad and served alongside grilled hangar steak. He seemed as happy as I've ever seen a man with a salad. 
Did we start with empanadas?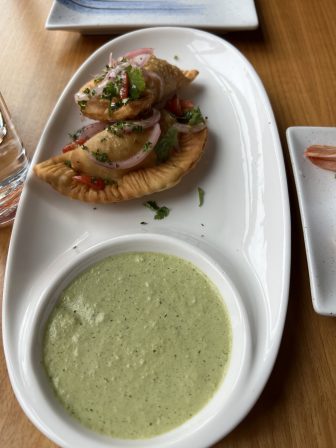 Is the Pope Argentinian? 
Greens on the Go
75 Pine Street
(203) 594-1490
Greens on the Go Owner Alyssa Kadow and her cheerful team have been slinging salads, bowls, and stews gorgeous enough to be your screensaver at Pine Street Concessions since 2017. When I look back at pictures of food on my phone (what, is that weird?), the salads are almost always Greens on the Go creations. Colorful, crisp, and chopped to a bite-sized fare-the-well the way I prefer; I understand why Greens on the Go opened a second location in Darien this week. My only hope is that this will ease the chaotic traffic at the intersection of Grove and Pine. 
Greens on the Go seems to follow the unspoken Golden Ratio of Saladcraft™: two-thirds of any salad should be composed of varying leafy colors and textures, ranging from pale butter lettuce to deep green, tender spinach, all the way to crunchy, deep-purple Red Leaf. The other third is for toppings, and there should always be something classic (like cucumber and tomato), something allium (pickled onions, chives), something tart (vinaigrette, orange suprêmes), something crunchy (croutons), and something that's cheese (cheese). There can also, occasionally, be corn. But it's not an
uninvited niblet; it's pedigreed, in-season corn by way of the farmer's market. I particularly enjoy this phenomenon in their summertime classic peach & Burrata salad.
Pro tip: if you're having a meeting, a lunch, or any event that involves a gaggle of women convening at your house, call a day or two ahead and order a party-sized salad to pick up (I like GOTG's California salad for a crowd; the colors are dreamy), then pick up a couple of Wave Hill three-grain baguettes at Walter Stewart's, even if so few people eat bread these days, it may as well adorn the Pizza Hut salad bar. It's still a great way to sop up your leftover goat cheese bits, and I will die on this hill.
Rosie
27 Elm Street
(203) 966-8998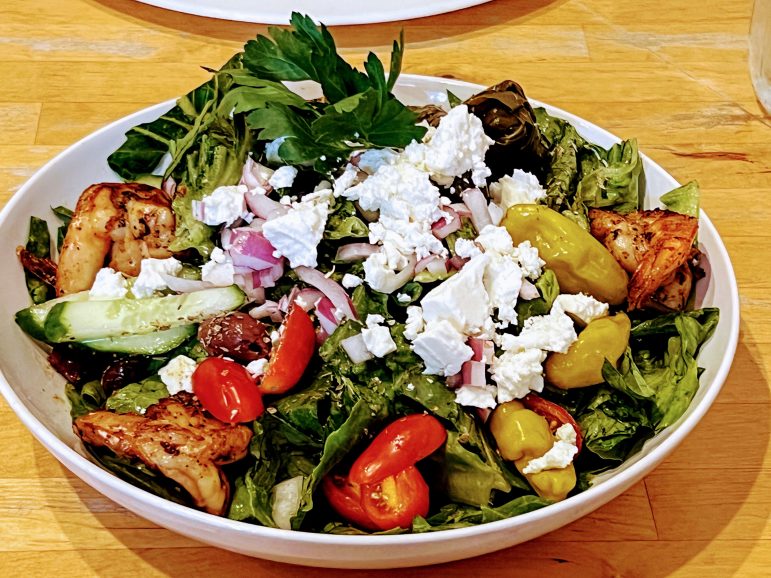 Rosie Greek Salad
Price: I failed to make a note of it, but the shrimp was $12
Calories: about 475? I don't know? Shrimp!
Husband: ordered the taco salad, naturally.
Rose Bonura is the sweetheart of our town, and her namesake storefront, Rosie, has lovingly served breakfast and lunch to a rotating cast of New Canaanfolk for 18 years. People love Rosie for her seasonal list of specials, a can't-miss summer lobster menu, and a to-go counter stocked with beautiful baked goods that can reliably ply any toddler (or adult, to be fair) into better behavior for a jaunt down Elm Street. Because I'm always helplessly drawn to her cauliflower tacos and unbelievable Tostada Crunchy Wrap, I hadn't ever really thought of Rosie as a salad spot. But it is, because Rosie knows what you want before you want it. 
We stopped in late in the afternoon for a bite. The Greek salad (on the specials menu) instantly caught my eye because it comes with dolmades and pepperoncini, which both instantly elevate any Mediterranean dining experience with texture and snappy, briny, sorcery, respectively. I ordered my salad with shrimp and immediately wondered if asking for "double shrimp" would make me sound a bit too… Red Lobster. I didn't risk it. My shrimp were plenty, but "shrimp and a half" honestly wouldn't be a bad idea. I loved the warm, spicy shrimp, the chopped onions, the generous helping of feta, and the pepperoncini. I made my husband the perfect bite, a fork speared with a little of each, and realized that, once again, my search for stray corn had turned up empty, owing entirely to the care and integrity  of New Canaan's tireless corps of line cooks.
I'll have to keep looking.