New Canaan Police at 3:14 p.m. Sunday received a report of a computer and backpack stolen from an area near a soccer field at Saxe Middle School.
***
Save The Date: The 2022 New Canaan High School Hall of Fame Induction Dinner will be held Oct. 14 at Woodway Country Club. Boyd Harden, Bo Hickey, Anthony "Dinny" Lapolla, Diane Murphy, Frank Panella, Emily Stauffer and Andy Towers will headline this year's event. Keep an eye out on ncrams.com for tickets ($125). Here's background on the inductees.
***
Police at 9:50 a.m. Tuesday received a report of checks stolen from a mailbox on Harrison Avenue and fraudulently cashed. 
***
First Selectman Kevin Moynihan said during a discussion Tuesday about repairing a stone wall at Waveny, "There are stone robbers in town. When I closed on my first house, the day before I closed they came and stole my stones. Didn't realize until a few weeks later. They said, 'You know they stole your wall?' "
***
Joe's Pizza owner Lorenzo Colella, back in New Canaan after an extended hospital stay, will fully reopen the Locust Avenue pizzeria from 4 to 10 p.m. on Saturday and Sunday (after a "soft opening" on Friday to get things in order).
***
New Canaan resident Victor Alvarez, a Democrat who is seeking election to the state legislature (125th District), worked in finance for 32 years in New York City, including 10 as business controller at a global publishing company. He holds a bachelor's degree in finance from Boston University, an MBA from Columbia University, and has been a member of New Canaan's Board of Finance since 2020.
***
A motorist was reported to police at about 6:16 p.m. Tuesday for passing a stopped school bus on Frogtown Road near Frogtown Lane.
***
A lawyer representing Captain Jack LLC on Sept. 12 filed papers in state Superior Court to evict a tenant from a Heritage Hill Road apartment after they failed to pay rent when it was raised from $2,550 to $2,850 monthly, according to the complaint. 
***
"Brave Heroes and Bold Defenders" by Shirley Raye Redmond, published by Harvest Hill is now available on audiobook from Dreamscape Media and was recorded by John Patrick Walsh here in New Canaan at VoiceOverWalsh. Asked about the work, Walsh said, "This project was a real honor to do. I recorded it in my home studio and had the time to understand the importance of each one of these gentlemen. While they represent different eras and ethnicities, they share an incredible amount of bravery and an intense devotion to their faith lives. Everyone from George Washington Carver, Alvin York, C.S. Lewis to Zhang Boli and 9/11 hero Todd Beamer. It's a fascinating list." Above is an audio sample, a profile of Football Hall of Fame hero Tony Dungy. Walsh said the author has a "wonderful companion book "that profiles 50 remarkable women titled "Courageous World Changers'": "While these books are aimed at the Young Adult market, I encourage everybody to consider reading and/or listening to these profiles of 100 amazing men and women."
***
The New Canaan Building Department on Sept. 10 received an application to demolish a 1953-built ranch-style house at 49 Tobys Lane.
**
New Canaan Nature Center's Harvest Festival—"Beer, Bites & Wine"—is scheduled for 7 to 10 p.m. on Saturday, Sept. 24. Details here.
***
Police at about 5:40 p.m. on Sept. 14 responded to a service call on West Avalon Drive regarding harassing text messages.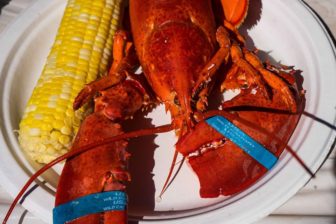 ***
The New Canaan Rotary Club's annual Lobsterfest is scheduled for Friday Sept. 30 and Saturday Oct. 1. Details here.
***
The town on Monday received an application from the Country Club of New Canaan to construct a fifth paddle court.
***
The Children's School is hosting an Open House from 4 to 7 p.m. on Friday, Sept. 23 (RSVP required).
***
Police at 12:44 a.m. on Sept. 18 received a wallet that had been found at Town Hall. It was placed in property management at NCPD.
***
Author David Sokol on Oct. 14 will talk about modern houses and Midcentury Modern architecture during "Modern Migrations: Searching for the Next New Canaan," part of Lunch4Design from the New Canaan Museum & Historical Society.
***
Moynihan during a discussion about the proposed West School cell tower at Tuesday's Board of Selectmen meeting said, "Someone made the comment online "commerce over constituents' this is not commerce over constituents. This is safety. Safety. Our first responders, our teachers and our students." He referred to this comment posted on NewCanaanite.com. 
***
The Town Players of New Canaan's new show, The Fantasticks, will run through Oct. 2, and The Rocky Horror Picture Show will run Oct. 28 and 20 (come in costume for prizes). Shows are at the Powerhouse Theatre in Waveny.
***
Finally, here are some more great local events (upload your events to our calendar here and we'll share them with the community):