Selectmen Kathleen Corbet and Nick Williams on Tuesday pushed back on a recent change that New Canaan's highest elected official made to the Board of Selectmen's regular agenda without their knowledge or input.
Since January 2018, the selectmen's agenda has included an item toward the end that allows members to address general matters before the town. The Board's agenda typically has specific items related to approvals of contracts, hirings and appointments, and the "Selectmen Comments" item has allowed members to raise a number of other topics. In recent months, for example, the selectmen have used it to discuss traffic safety at Route 106 and Carter Street, a proposal to build a police station on a Saxe Middle School ball field and a more collegial approach to scheduling meetings.
Yet last month, the item disappeared from the selectman's agenda, Williams noted.
"For the first time during your reign as first selectman, I notice that the agenda does not contain 'Selectmen Comments,' " Williams said during the meeting, held at Town Hall.
Pressed as to why he removed it, Moynihan said, "It wasn't productive."
This exchange followed:
Williams: Our comments are not productive?
Moynihan: Again if you want to talk, go ahead and talk.
Williams: Sorry, what? 
Moynihan: If you want to talk, talk.
When the agenda item first was introduced as a boilerplate item on the selectmen's agenda, it was listed as "General Matters." Then, in July 2020, then-Selectman Kit Devereaux urged Moynihan to allow those attending public meetings to speak on any topic they wish, instead of only those specifically listed on the agenda. Moynihan pushed back on the idea. The following month, after Corbet took over Devereaux's seat on the Board of Selectmen when the latter moved out-of-state, she too pushed for to allow those attending public meetings to speak on any topic they wish, and cited the "General Matters" agenda item itself as a reason to allow them to do so. Moynihan then renamed the agenda item "Selectmen's Comments."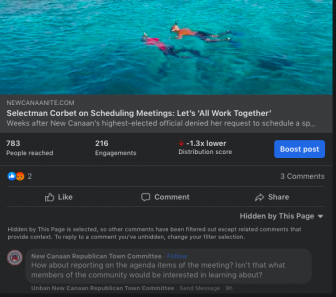 It wasn't immediately clear what specifically prompted Moynihan to remove the agenda item, though last month—days after it was disclosed that an ethics complaint had been lodged Nov. 1 against him—an administrator of the Republican Town Committee's Facebook account posted this comment on the New Canaanite's Facebook page on a story about Corbet calling for the selectmen to be more accommodating of each other in scheduling meetings (screenshot at right): "How about reporting on the agenda items of the meeting? Isn't that what members of the community would be interested in learning about?"
The "Selectmen's Comments" agenda item hasn't appeared since.
Corbet asked during Tuesday's meeting whether "they are going stay as part of our agenda or are they being removed permanently?"
Moynihan responded, "Permanently. I mean, it was abused. So let's just adjourn the meeting. I think we've covered it today. Until other matters resolve. I move that we adjourn at 9:08."
But neither Corbet nor Williams seconded Moynihan's motion. Instead, Williams began to say, "So going forward, since there's not the opportunity—" and was interrupted by Moynihan, who said something unintelligible.
Williams responded, "Of course i can talk. I'm a member of this board. I can talk when I want to talk. But if we want to bring issues to the forefront, we just do it by motion?"
Moynihan said, "Let's talk about putting things on the agenda." (As the head of the Board of Selectmen, Moynihan sets the elected body's agenda for each meeting.)
At that point, Corbet moved that the Board keep the "Selectmen's Comments" item on all meeting agendas in the future. Williams seconded the motion and, together with Corbet, they voted 2-0 in favor.
Moynihan said nothing and didn't cast a vote.