The following letters of appreciation for New Canaan Police Department officers were made public during the Feb. 27 meeting of the Police Commission, by Chief Leon Krolikowski.
***
Officer Roberto Lopez
"I am writing this memo on behalf of exemplary service that was put forth by Officer Lopez regarding a recent suicidal party investigation. On 1/27/19 Officer Lopez was assigned to Dispatch, and was in the process of training Officer [Kelly] Coughlin for the role of dispatcher. At approximately 1615 hours he received a call from a female party that had made suicidal statements to a former dating partner. The call for service had originated during the day shift, and the primary officer had left for the day. Instead of just passing the call to voicemail, Officer Lopez took up the investigation and pursued multiple leads regarding the location of the suicidal party. The suicidal party was evasive and not willing to provide an exact location. Officer Lopez informed me of the initial phone contact. As the acting sergeant for the shift, along with Lt. [Jim] George's approval, Officer Lopez was asked to continue with his investigation. Officer Lopez agreed, and over the course of the shift, he made contact with multiple agencies requesting mutual aid, welfare checks at different homes, and helped provide documentation supporting the claim to the agency that located the missing party. Officer Lopez concluded by writing a detailed report of the incident, and notifying the primary officer of the update. Based on his effective investigation, the party was unharmed and transported to a local hospital for evaluation. Lt. George and I recommend that Officer Lopez be awarded with 8 hours of Comp time for his hard work."
—Sgt. George Caponera and Lt. James George
***
Officer Nicole Vartuli
"Good morning—I have been meaning to send this email in regard to Officer Nicole Vartuli. She is better than the best in all honesty! She was dispatched to my gas station on Feb. 3rd after I noticed money missing out of school collection jar on the counter that customers contribute to. I reviewed the surveillance camera and identified the suspect who stole. Officer Vartuli reviewed the videos as well and investigated. She reached out to the suspect and later the suspect turned herself in. Officer Vartuli was quick, efficient & thorough. She made contact with me in regard to what was going on and the outcome. I have met a lot of your Officers who are all wonderful, but Officer Vartuli went the extra mile to help us out! I am glad New Canaan Police has such great GIRL POWER on their Department! Your Officers are doing an excellent job out there! Thank you to all of them being fabulous! Please let Officer Vartuli know how happy she makes the community!"
—Maria Kean, Mobil, 16 South Ave.
***
Officers Geoff Lambert and Matthew Blank and Sgt. Joe Farenga
"Thank you so much for providing ALICE Training for our staff on January 25th. Officer Lambert, Blank and Sgt. Farenga were informative and engaging discussing a difficult but necessary topic with us. We are very appreciative and feel we are better equipped should the situation arise."

—John Alfone and staff, St. Aloysius School
***
Officers Dan Gulino, Brian Micena and Scott Romano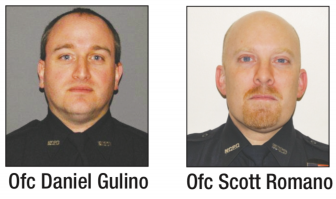 "Your officers were awesome! Thanks to their presence and friendliness, the evening proceeded without a hitch. Thank you for your support."
—Lisa Vasquez
***
New Canaan Police Department
"I would like to take a moment to recognize the outstanding work you have all been putting out recently. Attached are the monthly statistics for January 2019. As you can see there was a significant spoke in motor vehicle enforcement, 524 [motor vehicle stops] in January 2019 up from 319 in December 2018 (previous month) and up from 387 in January 2018 (same month last year). We in the command staff recognize that January isn't always the easiest month to remain active and we truly appreciate the dedication you all have shown. We also appreciate the level of professionalism that you show day to day. It's not always the high profile incidents that we see your greatness come through, sometimes it's the routine incidents. Because of what you do, we are consistently rated within the top ten safest communities in Connecticut … Keep up the superior level of service that sets us apart from any other agency in the state."
—Deputy Chief John DiFederico
Links cited: