One year after authorities seized 12 dogs from a New Canaan house, rescuing them from an animal cruelty situation where three puppies already had died, officials say the animals are thriving in new homes. 
The two Poodles, one Yorkie and nine Maltese puppies, as well as two Maltese adults, an intact male and female, were seized by town officials on Nov. 17, 2020, after they learned that a local woman, Catherine Palmer, had been operating an illegal pet store while keeping puppies in an unsanitary environment, lying to veterinarians about their health and denying the animals access to medical care, according to court documents. 
"They were very, very lucky to meet this fate and not the fate that was planned for them," New Canaan Animal Control Officer Allyson Halm told NewCanaanite.com on occasion of the one-year anniversary of the seizure. "Very, very lucky."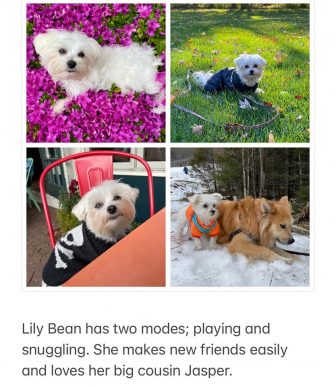 She thanked many of the individuals and organizations that assisted in caring for the dogs in the days, weeks and months following their seizure. Following months of hearings, a state Superior Court judge granted the town of New Canaan full legal custody of the animals in January, and they've been adopted out to loving homes in Connecticut and other parts of New England, Halm said.
"I am so grateful for CERT [Community Emergency Response Team], Connecticut Westport Human Society and Stratford Animal Control and their STARS [Stratford Animal Rescue Society], who came to my rescue," Halm said. "Without them, these dogs would have had a harder time adjusting. They needed that hands-on care, like any young animal does, and by having all of these volunteers coming to my shelter and Stratford Animal Control, these dogs were were able to grow up and adjust to normal lives."
Halm also offered specific thanks to New Canaan Police Officer Annamaria Ceci.
"This was a difficult case," Halm said. "It required 44-hour care or concern for these living creatures. It wasn't something we could put in the closet and think about four days later. It was every single day, almost around-the-clock, to make sure these animals got their needs met. I look back and remember how exhausted I was, and I'm so grateful for the help I got."
Tipped off in August 2020 by tenants in the house at 151 Butler Lane after one of the puppies that Palmer kept penned amid feces and urine in the kitchen became unresponsive, Halm learned the following month that three other puppies had died within five days, according to an arrest warrant application. Lab tests later showed two of those puppies died of parvovirus and one had pneumonia, Halm said in an affidavit that was included as an attachment to a Verified Petition of Animal Neglect and Cruelty filed in court.
Halm and New Canaan Police Officer Emily Clark responded to the initial complaint on Aug. 12, the affidavit said. There, they were met by two tenants. One of them, who had been living in the house since November 2019, "was holding a small white puppy that that was unresponsive," according to Halm's affidavit, and said she'd texted Palmer about calling the police regarding the sick puppy.
"[The tenant] indicated that Palmer does not reside at the Butler Lane address, however does leave puppies there routinely," the affidavit said. "[The tenant] stated that the puppy she was holding was not in the house when she went to bed. Both [tenants] believed Palmer brought the puppy in during the night, switching it with one of the five healthy puppies that were there. [One of the tenants] stated the sick puppy was much smaller than the original five."
Palmer arrived "and became defensive when [the tenant] questioned where the sick puppy came from," the affidavit said. 
"Palmer denied switching puppies. At that time I advised Palmer that the puppy needed immediate veterinary care. Palmer left the scene claiming she would take it to her veterinarian at United Veterinary Center in Norwalk."
While in the house, Halm said she and Clark "observed three small white fluffy puppies approximately 9-12 weeks of age in a gated area of the kitchen and two small white adult dogs."
"There was feces and urine covering the floors," the affidavit said. "A bowl of dry food and water was visible. Conditions on the floor and walls were unsanitary for both the dogs and the tenants who resided there."
The tenants told police that they pay Palmer monthly rent, though there's no contractual arrangement for them "to care for the continuous flow of puppies."
They "claimed they would clean up after the puppies because Palmer was never there to provide care and they felt badly for the neglected dogs," the affidavit said. "They further claimed that if they didn't provide food and water frequently the puppies would suffer. Based on experience and training, affiant Halm knows puppies under the age of six months require a minimum of three wholesome meals a day ensuring each animal gets their share and that they live in a clean environment."
Palmer was charged with three counts of animal cruelty. She pleaded guilty to those charges in August, in addition to a charge of second-degree violation of conditions of release, and received three years' probation. 
Prior to turning herself in on the active arrest warrant last November, Palmer traveled throughout the region with a vehicle full of puppies, making deliveries to people who'd purchased them through Thanksgiving weekend, police said. One of those puppies died over the holiday, according to police.
Halm said she asked whether Stratford Animal Control would hold one of the newborns for that family "and they did."
"That was little more of a heartfelt effort," Halm said, "to make sure that a heartbroken family's heart was mended."
[Here's a link to donate to the Stratford Animal Rescue Society.]